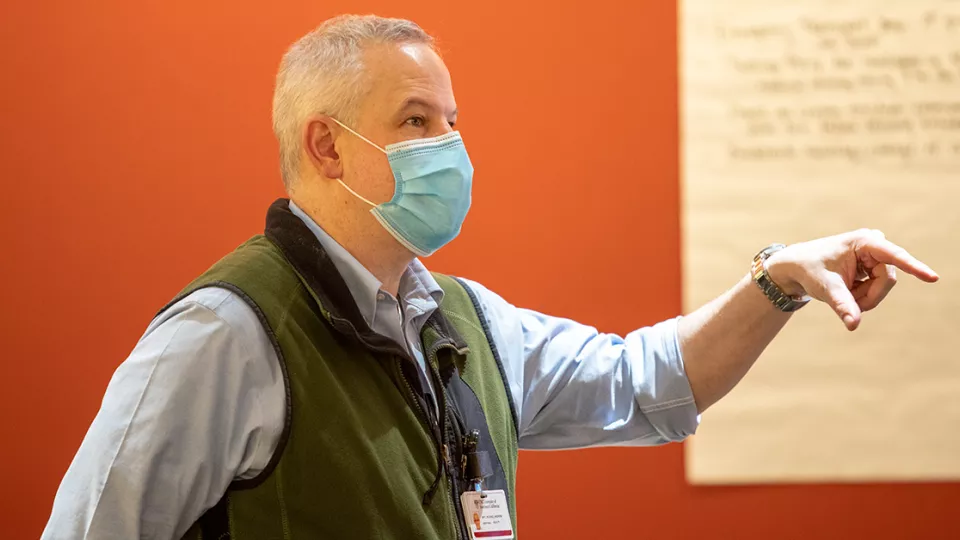 Work That Matters
'We Will Get Through This'
 Epidemiologist Michael Smit is helping to lead CHLA's response to COVID-19.  
"Are you doing OK at home?" Michael Smit, MD, asks in earnest.
He receives a sheepish reply about the hazards of indoor word processing not measuring up to the risks he faces on-site as one of the infectious diseases specialists guiding Children's Hospital Los Angeles' response to the novel coronavirus.
"Being cooped up at home can be challenging as well," he says graciously. "When I came home from West Africa in 2015, I was forced into quarantine for 21 days."
He was in Africa combatting the Ebola virus that overran the region a year earlier. "I witnessed what it was like for an entire country to be shut down, schools closed, quarantines, checkpoints, shortages of supplies."
That was an epidemic that never progressed to a pandemic, unlike what now confronts the world with COVID-19. From the Children's Hospital Los Angeles COVID-19 Command Center, Dr. Smit, Medical Director of Infection Prevention and Control, is at the nucleus of the hospital's response to the disease. He touches virtually every aspect of CHLA's efforts, providing ;daily updates to the institution's leadership, weighing in on whether or not employees who exhibit symptoms should be tested for the coronavirus, and formulating solutions to any potential crisis involving materials or personnel.
A West Point graduate and former Army officer, he disregards the little time off he has had. "I'm familiar with working in conditions where you don't have optimal sleep and rest," Dr. Smit says. "I signed up for this. I'm just doing my job."
He was predisposed to epidemiology by lineage: His aunt is a retired veterinary pathologist who helped to diagnose the 1989 Ebola virus outbreak at a primate research facility in Virginia; his uncle led the SWAT team that carried out the effort to contain the virus.
But he also was drawn to it by a love of solving mysteries. COVID-19 will remain one until researchers can crack it with a vaccine. With estimates saying we're 12-18 months off from that, the task, Dr. Smit says, is "for societies to hold together until we get over that hump and are able to go forward."
In the meantime he's hopeful that& herd immunity will& intervene to help decelerate the disease's spread. The thought is that the first wave of contagion created a mass of sick people who got well, and now have at least some immunity to the virus. The greater the number of people who were infected and recovered, the less sickness subsequent surges of infection can cause.
"Epidemics and transmission patterns can be very difficult to predict in situations like this," he says, "and often we have to make important decisions with incomplete information. We have to be able as a society to accept a level of uncertainty and carry on with our lives.
"Because of the stress and anxiety, people have their ups and downs, and that's completely understandable. I myself have suffered that as well. We just need to continue fighting on and support each other. We shouldn't be panicking. We shouldn't be spreading anxiety. We should be spreading confidence that even though there's a large amount of uncertainty, we will get through this.
How you can help
Learn more about how you can support our response to the coronavirus crisis.