The Versant RN Residency in Pediatrics Celebrates Its 20th Anniversary
Left to right: RN Residency alumni Beth Zemetra, MHA, RN, NE-BC, and Charissa (Cherry) Altobar, MSML, BSN, RN, NPD-BC, NE-BC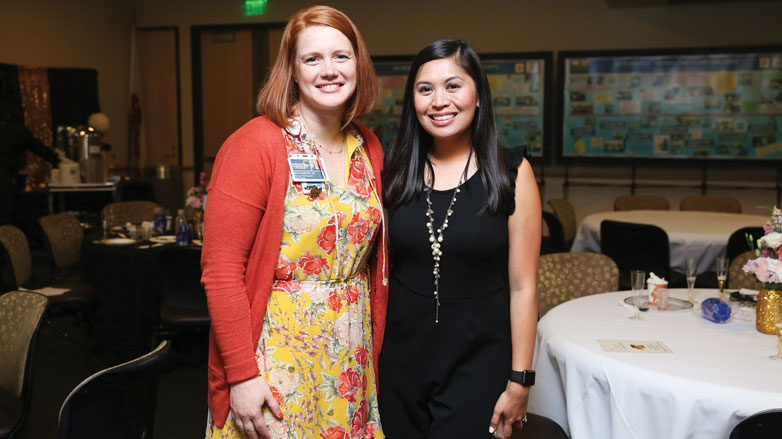 By Candace Pearson
Twenty years ago, Beth Zemetra, MHA, RN, NEBC, was finishing nursing school when she learned that the place where she dreamed of working— Children's Hospital Los Angeles—was offering the first-ever residency training program for new nurse grads.
"It was such an exciting time, and finding out about this opportunity was special," says Zemetra, Operations Manager for the Thomas and Dorothy Leavey Foundation Cardiothoracic Intensive Care Unit (CTICU).
The innovative program solidified her decision to join the CTICU and "took away a lot of anxiety of wanting to work in such a high-acuity, specialized unit," she says.
Now celebrating its 20th anniversary, the Versant RN Residency in Pediatrics debuted in January 1999 and quickly became the national model for new nurse graduate residency programs.
Over two decades, the program has prepared more than 1,600 nurses at CHLA to enter the pediatric world, thanks to 22 weeks of comprehensive clinical and learning experiences, debriefings, mentoring and precepting. Today, more than 50 percent of CHLA's workforce is comprised of residency alumni.
Zemetra is one of five nurses still on staff at CHLA who were in the initial cohort of 21. "Knowing you were starting out your chosen career with an entire group of folks who could share those experiences added to its power," she says.
Just like today, the first participants "looped" to units other than their own to witness patients' experiences. They also met nursing leaders from throughout CHLA. "It engaged us and opened our eyes to the hospital as a whole," says Zemetra.
Cherry Altobar, MSML, BSN, RN, NPD-BC, NE-BC, manager of the Versant RN Residency, joined CHLA in 2007 as a new graduate in the CTICU. In 2018, she took on her current role. Her love for working with newer nurses was inspired by her residency experience. "I saw how being gifted with extensive clinical and emotional support through this challenging transition can truly make an impact on a nurse's career," she says.
Giving training "embedded in so much support," adds Altobar, "creates a culture that conveys how much we value nurses and care about their success."
Find your career at CHLA
Join a hospital where the work you do matters. Visit Jobs.CHLA.org and apply today!