Bicycle Safety Tips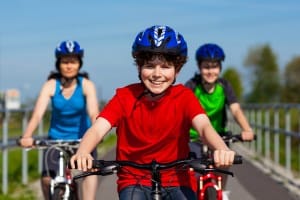 The weather is warming and the days are longer, which means it's time to dust off the family bicycles and go for a ride—May is National Bike Month! Aside from the fact that May is National Bike Month, there are a number of reasons to continue biking as a family throughout the year (if weather permits):
Fresh air
Healthy alternative to using the car
Healthy family activity
Opportunity to explore your local community
Safety Tips
In order to equip you with expert safety tips for your family's bicycling adventures, we reached out to Tracy Zaslow, MD, medical director of the Sports Medicine Program at Children's Hospital Los Angeles and her team.
Make sure all helmets fit right—a snug fit is important! If a helmet is loose it won't protect your head. Helmets prevent 85 percent of head injuries during bike riding.
Replace a helmet if your child is in an accident or experiences a blow to the head—even if there is no damage on the helmet.
Do not purchase a used helmet.
As a parent, wear a helmet too. Your child is more likely to wear a helmet if they see you wearing one.
Make sure all bicycles are the right size—toes can touch the ground, leg is almost straight when the pedal is pushed and when the pedal is bent your knee is not bent more than 90 degrees.
Make sure handle bars are not too low because this can cause neck and back strain.
If riding in the early morning, evening or at night, wear reflective gear so motorists can see you and your family.
Look out for cars. They often will not be watching for you.
Avoid neck pain with prolonged riding by doing shoulder shrugs and neck stretches throughout the ride.
When doing long rides, padded gloves can help prevent Cyclists Palsy which is an overuse injury of the wrist and hand that causes tingling and numbness. If pain or numbness and tingling occur repeatedly in the wrist or hand, evaluation by a sports medicine physician is recommended.
Five Steps for Finding the Correct Helmet Fit 
As mentioned above, a loose helmet will not protect your head. Often parents may purchase a helmet with this in mind, "They'll grow into it." This will do more harm than good. When purchasing your child's helmet, it must fit correctly at the time of purchase. Use these five tips from RN Remedies® blogger, Cheryl Franco:
Size—Don't buy a helmet without trying it on for size. Make sure the helmet fits snugly. While it is sitting flat on top of your head, make sure the helmet cannot move side to side.
Position—The helmet should it low on your child's forehead. There should only be one or two finger-widths above their eyebrow. Your child should be able to look upward and see the front rim of your bicycle helmet on your own head.
Side straps—The left and right side straps should form a "Y" and meet right below your child's ear. The side straps may be easier to adjust if you take the helmet off the head.  Roll the little rubber band as close to the side straps as possible to prevent slipping.
Chin strap (buckle)—Buckle the chin strap. Tighten the chin strap until it is snug. No more than one finger should be able to fit under the strap. Take a look at the first image at the top of the post to see how this should look.
Final check—Ask yourself these questions.
Does the helmet fit right?  Open your mouth really wide! The helmet should pull down on the head. If it does not, then refer to Step 4 and re-adjust the chin strap.
Is the helmet in the right position on your child's forehead? When looking up, you child should be able to see the front of their helmet visor. If they can't see it, unbuckle and tighten the side straps, re-tighten the chin strap and test again.
Does the helmet lean forward into your child's eyes? If so, unbuckle the helmet, re-adjust the side straps/chin strap and test again.
Does the helmet slip and move while your shakes their head? You may need to apply the sizing pads for a more snug fit or re-adjust the universal fit ring if your child's helmet has one.
Roll the rubber band down to the buckle. All four straps must go through the rubber band and be close to the buckle to prevent the buckle from possibly slipping.
Bicycling Etiquette
Sharing the road with motorists is serious, which is why knowing bicycling etiquette can prevent injury and promote safe fun. Robert, an RN Remedies blogger and dedicated cyclist shares more safety tips and bike riding etiquette, which includes:
Always ride WITH the flow of traffic.
Let drivers see you and use hand signals when you are making a turn or merging.
Let people see you by wearing reflectors at night or a light on the bike's handlebars.
Make eye contact with drivers to make sure they see you.
Road rules apply to you and your kids, so follow lane and highway markings. Just as if you were a vehicle, ride single file.
Stop at all stop signs and red lights, just like cars do.
The safest place to ride on a road is the right side.
With safety tips, finding the perfect helmet fit and bicycling etiquette outlined above, you and your family are ready to hit the open road for quality family time. What better way to celebrate National Bike Month and warm weather than by getting active together and creating memories?