We Walked for Healthy Hearts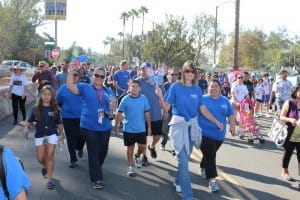 The original version of this story is featured in Community Benefit Report, 2013 issue (page 26).
In October 2013, more than 90 members of Team CHLA came together for the American Heart Association's Greater Los Angeles Heart Walk at the Rose Bowl in Pasadena. 
The annual walk, which occurs nationwide, promotes the effort to build heart-healthy lives through physical activity and raises funds for research and programs to fight heart disease, stroke and other cardiovascular diseases. These diseases are our nation's number one killer—claiming almost 1,000,000 American lives a year. 
Team CHLA not only participated in the walk, but helped sponsor the Kids' Zone and staffed a booth to present educational materials about congenital heart disease. 
Letter of Appreciation
"I'm thankful that monetary donations and awareness have and will continue to ensure the Children's Hospital Los Angeles Heart Institute's growth," said former CHLA patient in a letter of appreciation to the Heart Institute of Children's Hospital Los Angeles. "Thank you for all that you've done and continue to do for children in your care."
Making a Difference
CHLA staff, families and friends raised more than $25,000 at the walk to help impact efforts to reduce death and disability from cardiovascular diseases and stroke. Congratulations to Team CHLA and the Heart Institute for making a difference!


How You Can Help
Follow Team CHLA's lead and make a donation to Children's Hospital Los Angeles and help treat kids better. Visit CHLA.org/Donate