Love and Joy for Kids on Valentine's Day at Children's Hospital Los Angeles

Valentine's Day is such a cheerful time to be a kid. Children in Los Angeles and all across the country, stuff their classmates' Valentine's Day mailboxes with friendly notes – from store-bought cards with their favorite superhero to handmade construction paper hearts – and conversation hearts on February 14—Valentine's Day.
Since kids in the hospital weren't able to trade valentine cards with their friends and classmates, thousands of caring people sent cards containing special messages, "knock knock" jokes and special Valentine's Day wishes. We received nearly 38,000 messages through a special Valentine's Day page on our website and are happy to say—every child at the hospital received  a special gift bag filled with cards!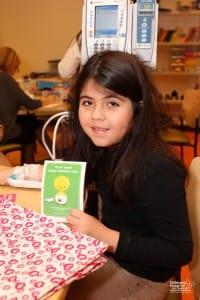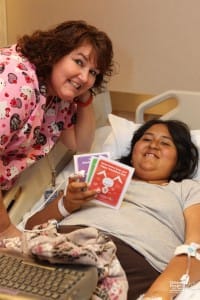 On Tuesday, Feb. 11, our Valentine's Day campaign was featured on ABC7, and thousands of valentines poured in! We received so many valentines with personal notes that we just had to share a few of our favorites:
I work at a veterinarian hospital, and all the doggies want you to know that they "wuff you!" —Corrie
I know sometimes the hospital can be boring - last Valentine's Day I was there too! I liked to turn on music and dance, even if I had to stay in my bed. Sometimes the nurses will dance too! You should try it! We are cheering for you, Happy Valentine's Day! – Morrison
Hope you have a wonderful Valentine's Day! Sending big hugs from snowy Massachusetts! –Jacob, 2.5 years old and his parents Jeanie & Adam
Roses are red, violets are blue. I filled this card with smiles just for you! :D :D :D :D :D –Susan
This Valentine's Day, your thoughtfulness helped brighten each child's day. Whether it was cheering up the little girl who was sad she was missing her Valentine's Day party or letting parents in the Newborn and Infant Critical Care Unit (NICCU) know that someone was thinking of our tiniest patients, your messages made a difference.
"Experiencing things like this strengthens my faith in people. It makes the kids feel special." – Jesse, patient dad, on watching his son receive his valentines.
At Children's Hospital Los Angeles, we are committed to creating a special place for kids, and we are so grateful for your support.
Mykell became a "Shutterbug" on Valentine's Day