CHLA Cardiologists Participate in 21st Annual Chad Volleyball Tournament
Rare summer thunderstorms and rain delays didn't keep eight teams from competing at the 21st Annual Chad Volleyball Tournament in Hermosa Beach on Saturday, July 18. Proceeds from the event benefitted the Children's Hospital Los Angeles Heart Institute and the Chad Foundation for Athletes and Artists.
"The Chad Volleyball Tournament Is a wonderful event every year that raises awareness of sudden cardiac death in young people," says Chad Foundation president Arista Butrum, who established the foundation in memory of her son, Chad. Chad died of sudden cardiac death at the age of 26, with no history of heart disease.
"Arista tragically and unexpectedly lost her son, Chad Butrum, to dilated cardiomyopathy. It seemed such a shame—he was so young, vital, and full of life," says Children's Hospital Los Angeles cardiologist Pierre Wong, who has participated in the event for years.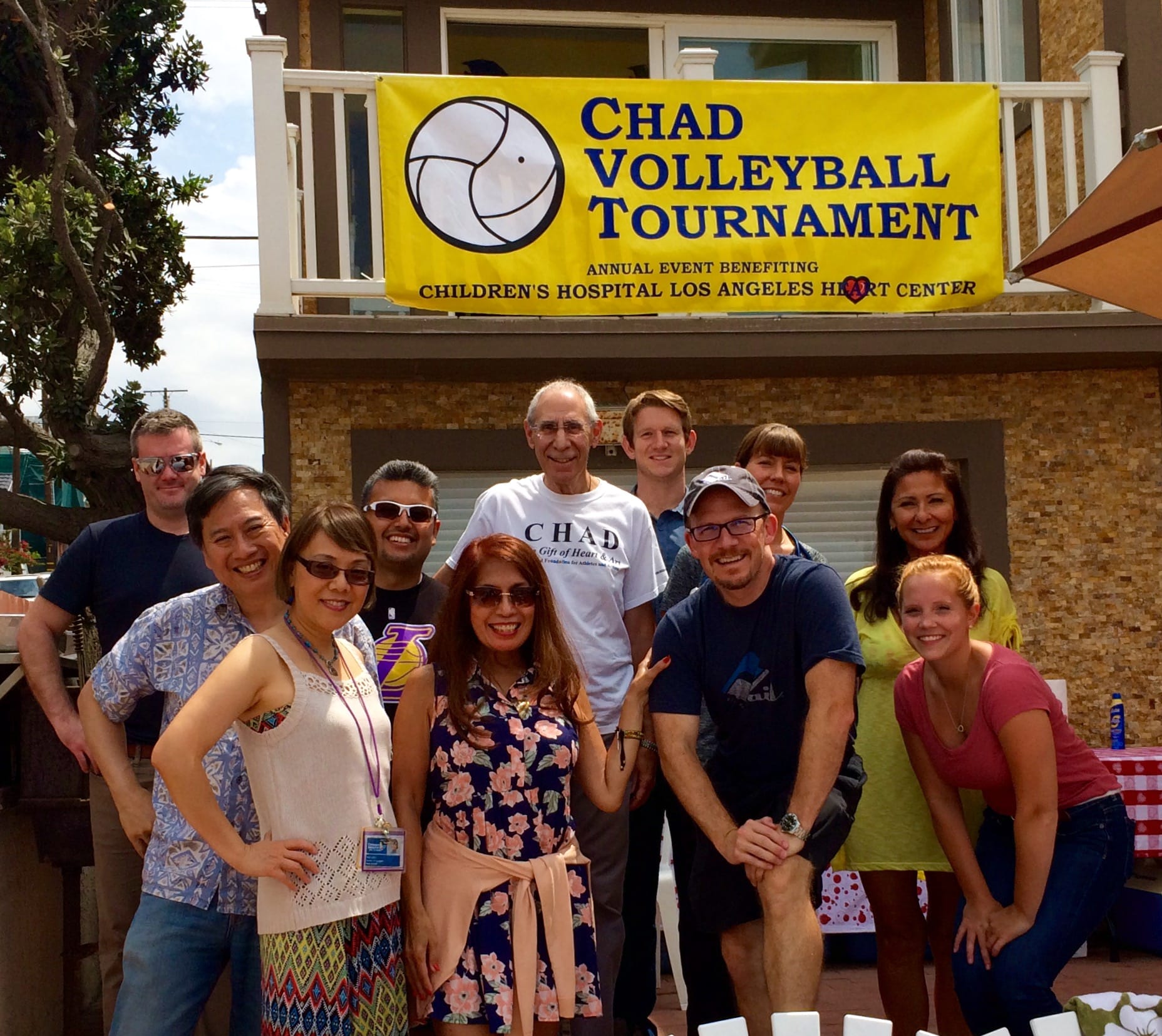 1st Row (Left to Right): Hui Gao, CHLA cardia sonographer; Arista Butram, founder of Chad Foundation; Jay Pruetz, MD, director of Fetal Cardiology at CHLA; Erin McGlew, volunteer. 2nd Row (L to R): Pierre Wong, MD, pediatric specialist at CHLA; Novel Castillo, CHLA sonographer; Alan Lewis, MD, Heart Failure Program at CHLA; Martha Hammer, volunteer. 3rd Row (L to R): Patrick Sullivan, MD, pediatric cardiologist at CHLA; David McNamara, volunteer; Anna Potter, RN volunteer
At the event, Wong and other doctors from Children's Hospital Los Angeles performed 48 EKGs and 46 echocardiograms, with a finding rate of six anomalies. The Chad Foundation has provided 7,200 screenings to date.
"Preventive heart screenings can help detect HCM (hypertrophic cardiomyopathy), which is a leading cause of sudden cardiac death in young athletes," Butrum explains, noting that HCM rarely displays symptoms until sudden cardiac death occurs. "I am so grateful for our supporters who consider our work to safeguard young hearts important."
One child was two years old when he was received a preventative screening that detected a hole in his heart. He is now a thriving at age 9.
"Arista resolved to turn Chad's passing into something positive and she reached out to us at CHLA for our help and support," says Wong, who maintains hours at Children's Hospital Los Angeles – South Bay outpatient center. "We eagerly agreed to participate and since then we have been actively involved in every annual CHAD event. It makes us feel good to donate our time for such a worthy cause."