Children's Hospital Los Angeles Pharmacists Educate the Community on Safe Medicine Disposal
By Rolando Gomez, MBA, manager, Government and Public Policy at Children's Hospital Los Angeles.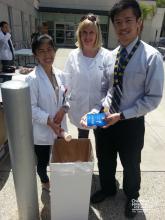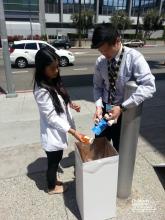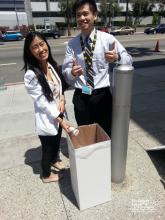 Pharmacists and pharmacy interns at Children's Hospital Los Angeles collaborated with pharmacists from Kaiser Permanente Los Angeles Medical Center, the Los Angeles Police Department (LAPD) and the United States Drug Enforcement Administration (DEA) to come together to participate in the National Prescription Drug Take-Back Day this past April 26, 2014.
Safe medicine disposal helps the community
The purpose of the initiative was to provide the community with a safe and convenient means of disposing expired or unused medications, especially controlled substances with the potential for abuse. This annual event, sponsored by the DEA, began in 2010 and takes place at over six thousand collection sites all across the country.
CHLA pharmacy resident, Christopher Li, Pharm.D, along with Pharmacy Intern, Alison Thai, provided leadership and collaborated with Dennee Frey, co-chair of the California Society of Health-System Pharmacists (CSHP) Public Affairs Committee. LAPD officers and DEA agents were present to direct program operations and ensure secure and environmentally-friendly medication disposal. Students from the USC School of Pharmacy volunteered to help collect drugs and to provide health education regarding poison prevention and medication safety.
Medicine versus candy: Education around medication storage
A "medicine versus candy" display case was used to teach the importance of medication storage, demonstrating how easily medicine can be mistaken for candy and the dangers of such an event. Magnets from the California Poison Control System (CPCS) were distributed to the community to increase awareness of the Poison Help Line, 1-800-222-1222, which provides direct access to pharmacists, physicians and nurses 24/7 in the event of a poison emergency. Script Your Future, a national campaign to raise awareness about medication adherence, provided medication cards and other materials to educate the public as well.
The event was a tremendous success, providing community members with a more responsible means of disposing their medications than throwing them in the trash or flushing them down the toilet. Over 700,000 pounds of medications were collected across the nation, more than any previous Drug Take-Back Days. The Office of Community Affairs commends the staff members from our pharmacy, community partners, USC student volunteers and all other involved in this effort.