CATCH-ing the Community of Children With Hand Differences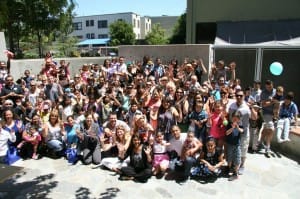 More than 200 guests, including 50 CHLA patient families, attended the Sixth Annual Center for Achievement of Teens and Children with Hand Differences (CATCH) picnic on Saturday, May 2 at the Saban Research Building courtyard.
"CATCH is a welcoming community at Children's Hospital Los Angeles for all children who are born with small, missing or weak arms," explained Nina Lightdale, MD , director of CHLA's Hand and Upper Extremity program in the Children's Orthopaedic Center . "The goal is to introduce children who have never met another child with a hand difference so that they don't feel alone."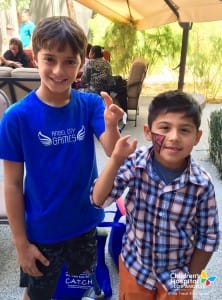 The annual gathering unites families and children with hand differences from all over Los Angeles County into a unique community where they can share experiences and support each other. This year's celebration included three inspirational speakers who each shared their personal stories.
Tony Memmel, a singer-songwriter who was born missing his left forearm, demonstrated how a little ingenuity at age 13 – taping a guitar pick to his partial left arm – allowed him to pursue a career in music. Nine-year-old Ezra Frech inspired kids who think they can't do things 'normal kids' do. Frech was born with a congenital anomaly that resulted in the amputation of his left leg and the relocation of his big toe to his hand to serve as a thumb on his left hand. Frech, who excels in basketball and track, was a 2014 Sports Illustrated SportsKid award nominee.
"What kid doesn't want to run and jump and throw?" Frech remarked with a grin, knowing that he is an example for kids with physical differences. "You can overcome anything that's in your path. I know it because I did it."
This year's scholarships included three iPads to help with schoolwork and drum lessons for a music lover. PEAK awards (Person of Extraordinary Achievement and Kindness) were given to fINdings Women's project and Tony Memmel. USC Freehand presented three children with 3D printed hands and spoke with many families about the process of obtaining one.
Entertainment included live music, an animal balloon artist and a face painter. Arts and crafts were provided by The Art of Elysium and Marvel Comics donated comic books.
More on Jonny's Story: