All-star Lineup Rocks Post-GRAMMY Concert for the Children's Orthopaedic Center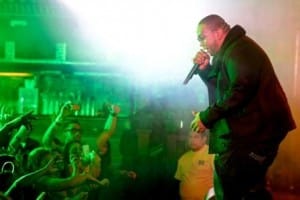 For the second year in a row, the biggest night and the biggest names in music converged at House of Blues on Sunset following the GRAMMY Awards in February for a charity concert benefiting Children's Hospital Los Angeles.
The evening featured performances by deadmau5 featuring Kylie Minogue (photo below), Timbaland + Demetrius, Nero, Crookers, and DJ Reflex each of whom donated their performance. The evening was a great success thanks to the generosity of event creators and presenters, Roc Nation and Three Six Zero Group; House of Blues Sunset, who provided the venue; and event sponsors Stance Socks and Skullcandy as well as Island Def Jam and Nokia Music, who donated to the cause.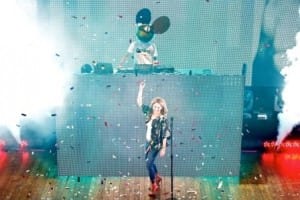 VIPs and celebrities were also on hand to support the cause, including JAY Z, Beyoncé, Kelly Rowland, Ellen Pompeo, Adrienne Bailon, Kat Von D, Nicole Scherzinger, Rashida Jones, Sia, Stargate, Kat Graham (Vampire Diaries), Chord Overstreet (Glee), and Alexander Ludwig (The Hunger Games).
Funds raised benefited the hospital's Children's Orthopaedic Center (COC), which specializes in the care of children and adolescents with bone and soft tissue tumors, hip disorders, neuromuscular disorders, scoliosis and other spinal deformities and spina bifida. Proceeds from the evening will help fund critical needs, such as pediatric medical research and providing the best medical care for children with birth defects, physical deformities and life-threatening illness or injury. The annual event has raised more than $264,000 to date.
"Producing an event during GRAMMY week is a great time to benefit and highlight the Children's Orthopaedic program" says Dean Wilson, President of Three Six Zero Group, "Thank you to all the artists who performed and everybody that made donations that helped make this event such a success."
"We cannot express enough our thanks to Roc Nation, Three Six Zero, House of Blues and all the amazing artists who donated their time and talent for this amazing event," said David Skaggs, MD, Director of the Children's Orthopaedic Center at Children's Hospital Los Angeles. "As a nonprofit hospital, fundraisers like this are absolutely critical to our success. We're proud to be the very best at what we do, but it's truly the support of the community that makes it possible."
Crookers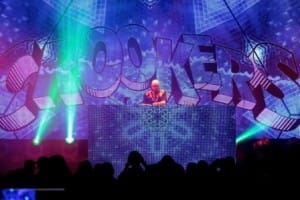 Nero