What's in Your Cup?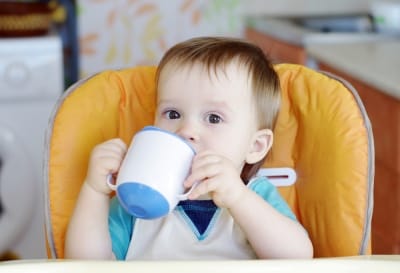 The weather is changing with warmer temperatures and longer days, which is always an exciting sign that summer is near. With more opportunities to be more active outside, chances are we are going to be sweating and drinking more fluids throughout the day. Maintaining adequate hydration is important, and even more importantly, what we are drinking and providing to our children in order to stay hydrated can really make a difference.
Maintaining an appropriate body weight is essential for everyone, especially for children so they can grow into strong, healthy adults. Calories in foods are often scrutinized, but what about the calories we consume from liquids? These often go forgotten, yet are certainly one of the leading factors contributing to childhood obesity. Together let's review common liquids so that you and your child can make the best decision this summer!
Water
There is truly nothing like water. It contains zero calories and even more importantly, it contains zero sugar. This summer, challenge you and your children to reach for water over any other beverage. Water can be made fun with freshly sliced cucumbers, or freshly cut strawberries. You can really get creative with water to keep it interesting, all while keeping it sugar free! It should be said, for babies less than 1 year of age, please consult with your pediatrician or dietitian to ensure water is safe. Most babies are able to meet their hydration needs through breast milk or infant formula.
Milk
This may be one of the most highly requested, popular beverages for children. Milk is best known for the protein, fat and calcium it provides. Though these are important nutrients, they are also found in wonderful foods and therefore milk should be enjoyed in moderation and as a compliment to a well-rounded diet. How much milk should your child be drinking? Review the chart below to see where your child falls. It should also be noted that this total amount per day includes all dairy products, such as yogurt and cheese.
| | |
| --- | --- |
| 0-12 months | No cow's milk |
| 1-2 years of age | 16 ounces/day- Whole milk |
| 2-3 years of age | 16-20 ounces/day- 0-1% fat milk (fat free/low-fat) |
| 4-18 years of age | 16-24 ounces/day |
100 percent fruit juice
Fruit juice can often be misleading, especially when you are dealing with a product that may be 100 percent fruit juice, meaning there has not been any white sugar added to the beverage. As the name suggests, juice is the liquid from a fruit. There are some nutrients retained in fruit juice, however fiber is not. Without fiber present, we are left with pure sugar and though these can be considered a natural sugar, they are treated similar to white cane sugar once they enter the body to be digested. Let's also not forget how important fiber is to our children's diets. This summer, challenge yourself to reach for whole fruits and allow your children to obtain juices from the fruit in its truly natural state. How much juice is recommended? The chart below is for your reference
| | |
| --- | --- |
| 0-6 months | No juice |
| 6-12 months | 2-4 ounces/day |
| 1-6 years of age | 4-6 ounces/day |
| 7-18 years of age | 8-12 ounces/day |
Fruit drinks and soda
There is no way to sugar coat this (pun intended), but these beverages are bad news. Though they may satisfy a sweet tooth or a craving, they provide no nutritional value. They do, however, contribute to excessive unwanted calories and added sugars that can lead to undesired weight gain or elevated blood glucose levels. Challenge yourself this summer to eliminate soda and juices such as fruit punch, powdered mixes, lemonade and pouch drinks.
Well there you have it! When in doubt, always reach for water and remember, what is in your cup may be providing undesired excess sugar and contributing to excessive weight gain. Be smart about your drink choices. Cheers to always pouring the best option into you and your children's glasses this summer.