A Formula to Choosing the Right Infant Formula

Choosing a formula can be a daunting task when breast milk is not an option. With numerous brands and types of formula, it can be difficult to know which one to choose. Here is a primer on what you'll you need to know when you're faced with choosing the right formula for your baby, along with a brief breakdown of common terms you'll see on formula packaging.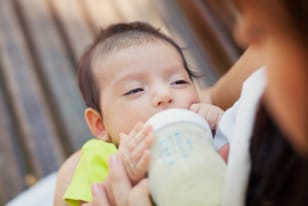 Formulas are often available in three different forms:
Ready-to-feed. No need for any additional water and/or mixing.
Liquid concentrate. Must be mixed with an equal amount of water; should not be fed to the infant without added water.
Powder. Gets mixed with water.
It is very important to follow the mixing instructions as stated on the can, to ensure adequate concentration and nutrients no matter which form is chosen. Some infants who are having trouble growing require formulas prepared in a nonstandard method to help with growth.
All formulas are designed to mimic breast milk's nutritional content, since it is acknowledged that breast milk is the gold standard for feeding infants. Generally, formulas are separated by the proteins they contain:
Milk protein, in the form of whey and casein
Soy protein
It should be noted that 40 percent of infants who are allergic to milk proteins are also found to be allergic to soy proteins. As a result, a soy formula is not always a good option when milk allergies are suspected or identified. Soy protein can also inhibit bone health (by interfering with calcium absorption) in preterm infants and can cause constipation in some infants, so it is not recommended.
There are formulas that are marketed to be "gentle" and are a variation of the standard milk and soy formulas. The proteins are broken down slightly to make them gentler on the stomach. Gentle formulas are not an option for babies allergic to milk proteins, but can help improve issues with gas and bloating.
Semi-elemental (extensively hydrolyzed or hypo-allergenic) formulas do contain milk proteins; however, they are broken down to the extent that they are often unrecognized by the body as milk proteins. Semi-elemental formulas are often effective for milk allergies as a first line of defense when symptoms are mild and are often very effective for gastrointestinal issues.
Elemental formulas are completely broken down into the smallest form and contain only free amino acids. Elemental formulas are for infants with severe allergies and gastrointestinal issues.
The formula aisle can be intimidating and confusing. Please contact your pediatrician or dietitian with any questions regarding choosing the right formula. We are here to help!