Why Summer Camp is Healthy for Your Child

It's summer and that means summer camp is officially in session! My summer camp experiences are some of my best childhood memories. Camp is an excellent activity for kids because it keeps them active and physically fit, allows them to make new friends and learn new skills, and is simply fun. Aside from helping kids stay active, I wanted to learn the pediatric developmental benefits of summer camp, so I reached out to Stephanie Marcy, PhD, pediatric psychologist at Children's Hospital Los Angeles. She shared some great information about summer camp and its ability to help children develop social skills and more. Continue reading!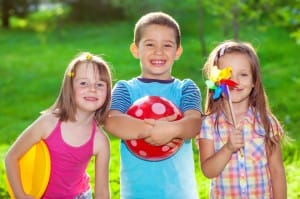 Developmental and social benefits of summer camp
Summer camp gives children an opportunity to meet friends from other schools, and it encourages them to cultivate relationships outside of their "friend comfort zone." Other benefits include:
Structure and routine 
Summer camp provides structure and routine for kids when they're not in school. It keeps them regulated and makes transitioning back into school easier when summer break ends.
Positive social interactions 
Summer camp promotes positive social interactions, often around a common interest such as sports, robotics or crafts.
Healthy, active outlet 
Summer camp provides a healthy, more active outlet for children away from television screens, cell phones and video games during summer break.
Developmental growth 
Summer camp keeps children's minds stimulated and provides growth in other developmental areas rather than just academics.
New people 
Summer camp exposes children to different situations and new people, which promotes development of flexibility and adaptability.
Essentials for summer camp
Now that you know the developmental and social benefits of summer camp, are you prepared to send your child to camp and its many activities? When I was a kid, I would grab my backpack and jump on the camp bus, never giving too much thought about the essentials to succeed at camp, stay nourished and keep from getting sunburned. Here are necessities to remember when preparing your child's backpack for camp!
Medication – If your child needs daily medication, it's important to contact the camp director or counselor before the first day because you may need to drop off the medicine at the camp office prior to start day. Your child's doctor will most likely need to fill out a form describing your child's condition, when and how to give the medication and side effects of the medication. Some kids use PRN medication, meaning "as needed," such as asthma inhalers, pain reliever for menstrual cramps or an auto-injector device for allergies. Check with your child's camp regarding who is responsible for holding this medication for your child and ensuring that it remains accessible to them if needed.
Water bottle – There is a high probability that your child will be running around outside all day, so make sure to keep them well hydrated. Talk to your child about continuously drinking fluids, especially water, throughout the day to prevent dehydration and heat-related illness. A good indicator of your child's hydration status is the color of their urine. It should appear very light yellow, nearly the color of water.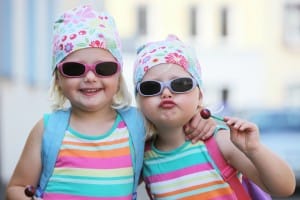 Sunscreen – Purchase a sunscreen that protects against both UVA and UVB rays, has a sun protection factor (SPF) of at least 30 and is waterproof. Apply sunscreen to your child before they leave the house for summer camp. If they are old enough, remind them to reapply throughout the day. If you have a little one, talk to your child's counselor about making sure they reapply the sunscreen to your kiddo, particularly after swimming.  A sun shirt with UVA and UVB protection is great to keep on your child during the day, especially when your child is wearing a bathing suit.
Head and eye protection – Encourage your child to wear a baseball cap or visor to keep the sun off their face. Let your child choose a hat and pair of sunglasses they like and feel comfortable wearing, otherwise it won't stay on for long (or likely won't make it home from camp with your kid). Sunglasses protect the sensitive skin around your child's eyes, which is prone to skin cancer.
Change of clothes – If your child gets wet, sweaty or is prone to bathroom accidents, it helps to pack a change of clothes in their backpack.
Healthy snacks – Pack healthy snacks so your child can "refuel" on the go. Granola bars, apple slices, string cheese, carrot sticks and trail mix are kid-friendly and healthy options. If your child has a food allergy, this is especially important so that they don't feel tempted to eat someone else's snacks. Allow your child to pick out their nutritious snacks when you shop together at the grocery store.
Identification (ID) card – Enclose an ID card in your child's bag. The laminated card should have your child's:
Name
Age
Weight
List of medications they take regularly
Food or medication allergies
Emergency contact information
Most camps do a good job of obtaining this information during enrollment, but in case of an emergency, it is important to have this information handy. If your child's camp takes field trips off site, keeping this with your child could be crucial in the event of an emergency.
Water shoes – Tennis shoes are good for running and playing sports at camp. However, when its time to go to the pool or run around in the sprinklers, don't let your child do so barefoot. Your child may step on something sharp, get a splinter or contract athlete's foot (fungus) when walking or running around without shoes.
Hand sanitizer – Help prevent your child from getting sick this summer by reminding them to wash their hands with soap and water. If soap and water is not available, encourage your child to use hand sanitizer before eating and after using the bathroom. It's easy to pick up germs in an environment with tons of other kids, like summer camp. Reminding your child to clean their hands also instills good habits ahead of time to keep them healthy all summer long.
After reading this RN Remedies® blog post, you're equipped to get your child excited and out the door for summer camp fun. What kind of summer camp is your child attending this summer? I would love to hear it, so leave a comment below! Please share this with friends and family who are parents as well!