What Parents Need to Know about MRSA Infection

It's likely you've heard of MRSA and not known exactly what it was. Some people in the media call it a "flesh eating bacteria" or "staph infection." The World Health Organization (WHO) and Centers for Disease Control (CDC) categorized MRSA has a major public health threat. MRSA used to be found mostly in hospitalized patients, but there are more reports of MRSA affecting people in the community as seen in this story from FoxNews.com. It is a scary thing because it sometimes morphs into the dreaded "flesh eating bacteria" that caused a world wide scare a few years ago as seen in this 2010 article in CNN Health about the rise of MRSA infection in student athletes. To learn more about this and provide knowledge to parents about MRSA and kids, I partnered with a colleague of mine, Terry Renteria, RN, who specializes in wound and skin care at Children's Hospital Los Angeles. I also found this resource from the Centers for Disease Control (CDC) helpful.
What is MRSA?
So, what is this bacteria? The MR stands for methicillin resistant and the SA stands for staphyloccus aureas. In understandable terms, the bacteria has become resistant to the antibiotic, methicillin, which was used after penicillin was overused to treat MRSA and lost its effectiveness. MRSA is also resistant to heat and drying. Moreover, it is becoming more resistant to treatment and can lead to serious and even fatal infections such as necrotizing fasciitis, osteomyelitis (bone infection), endocarditis (inflammation of the inner layer of the heart and valves) and sepsis (overwhelming infection).
MRSA is present in the environment around us and humans are natural reservoirs for habitat. It is estimated that 50 percent of healthy people carry a strain of this bacteria, especially health care workers, people with skin problems and intravenous drug users. This statement is not meant
to scare. There are ways you can prevent an MRSA infection, especially if you feel like you or your family is at risk. Keep reading to find out.
How Does MRSA Infection Spread and What are the Risk Factors?
As I mentioned earlier, MRSA is present in the environment around us, which give the bacteria opportunity to spread. Below are ways it can spread and make people sick.
Easily spread from hand-to-hand. Person to person spread, especially by hands
Sneezing or respiratory droplets like mucus and moisture from the mouth
Blood
Sharing personal hygiene items such as combs, tweezers, towels and sports equipment
The risk factors of developing an MRSA infection are trauma or injury to the skin, direct contact with a person carrying MRSA, chronic skin disease along with these other factors:
Previous colonization of MRSA in the nose
Households of four or more people
Children in day care settings
Use of antibiotics in the previous year
Contact sports, like soccer, football and water polo.
Pets
What Does and MRSA Infection Look Like?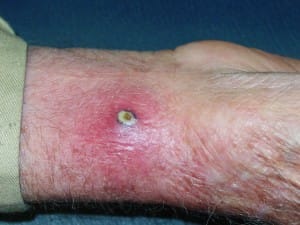 MRSA infection usually affects the skin on the buttocks and legs. Here are some things to look for:
Pus filled spots or boils. These mostly look like pimples at first.
Infected area is hot, swollen and red. It will become very painful if untreated.
Infected area can develop a blackened center and is often confused with a spider bite.
What is Treatment Like for an MRSA Infection?
If you believe you or someone in your family may have an MRSA infection, see a physician as soon as you can. Delay in treatment can cause worsen and spread the infection. This means a longer hospital stay. If treated for MRSA infection, this is what you may experience:
The doctor will draw an incision at the infected site to encourage drainage
Smaller infection sites can be treated with moist heat to allow it to drain
Antibiotics to treat the infection
Decolonization of the bacteria using intranasal treatments and antimicrobial soaps
Ways You Can Prevent MRSA Infection
Most MRSA infections can be managed with good wound care, draining and attentive use of antibiotics. Prevention is key! Here are ways you can prevent it:
Proper hand hygiene is important. Use soap and water, or hand sanitizer to clean your hands.
Children should not share personal items, like combs, toothbrushes, etc.
Use dry bandages to keep wounds covered and clean.
No contact with others until wounds heal.
Watch for the signs and symptoms listed above.
Take the entire course of antibiotics as your doctor prescribes them
Follow up with your doctor when antibiotics are finishes (as prescribed) or when the doctors asks you to come back, to make sure the infection is gone.