Water Safety: Hot Tubs, Ocean Swimming and Dry Drowning

In my last post, Hot Days, Cool Water: Summer Safety Tips, I shared important water safety tips for parents and really focused on what parents should remember when their children are playing in the pool.
But it's too easy to forget that the pool isn't the only place where kids are at risk for drowning. This post discusses the importance of being vigilant while your children are playing in hot tubs, containers of water and in the ocean.
I'll also discuss what dry drowning is and how to keep an open eye for its symptoms. 
Hot Tubs and Containers of Water
Many families allow children to play in or with containers of water such a "kiddie pools" or buckets of water. Some also allow their children to play in hot tubs (or Jacuzzis).
The same supervision is required during play time and it's important to properly cover a hot tub when it's not in use.
Ocean Safety Tips for Kids and Adults
For those of us lucky enough to live close to a coast, playing in the ocean is a great and inexpensive way for a family to cool off during the summer months. However, it's even more important for parents to keep a watchful eye on their children and follow these tips on an outing to the beach.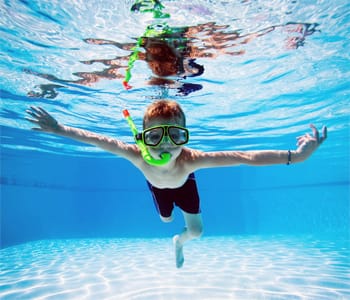 Always swim with a buddy
Stay near the lifeguard station
Don't wear heavy clothes, always wear a real swimsuit
Listen to and obey the lifeguards and any warnings posted
Don't use alcohol when swimming
Dry Drowning
I recall a sad news story in which a child who seemed to recover easily from an episode of almost drowning only to die in the night from the injury to his lungs. This phenomenon is called dry drowning and takes place when a person aspirates water into the lungs, which disrupts the supply of oxygen. This is a situation requiring medical treatment and a delay can lead to death.
Signs and Symptoms of Dry Drowning:
Difficulty breathing, shallow breathing, fast breathing
Pain in the chest when breathing
Sudden change in mood
Confusion
Decreased energy, increased agitation
Pale or blue skin
Inability to speak clearly
Sweaty skin
Cough
If you have reason to believe your child could be suffering from dry drowning, take him or her to the emergency room for monitoring and treatment.
Smooth Swimming
In my first post on water safety, I shared my personal experience with my daughter which alerted me to how quickly and silently a child can slip beneath the water.  Any parent who's had a near-drowning scare with their child knows just how quickly a little one can slip underneath the surface.
While I worried that this early experience would make her fearful of water, it turned out quite the opposite.  I placed her in swimming lessons where she learned to be a strong and confident swimmer. Ever since, she has been my swimming buddy, fearlessly diving into oceans and pools. She's even a member of a champion collegiate water sports team, the University of California Berkeley Rowing Team!