Treating Head Lice: What You Need to Know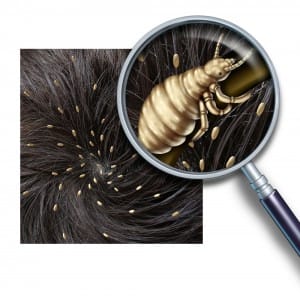 I remember my first experience with head lice. I was working at a summer camp and on the first day I had to check for head lice on each of my campers. The camp nurse instructed each of us on what to look for, but I still felt unsure because I had never seen them. Since my days as a camp counselor, I've seen many cases of head lice and thought you would find it helpful to apply these tips when and if your child gets head lice. But head lice doesn't just happen at camp or in the great outdoors, kids can get head lice at school or in an infested home.
Head Lice: Signs Your Child has It 
If you think your child has head lice, here are the signs to look for:
Intense itching or a tickling feeling on your child's scalp (could happen anywhere there is hair).
Look for lice. When you check your child's scalp, you will see the lice move around. Lice are about the size of a sesame seed and the easiest place to see them is behind the ears or at the nape of the neck.
Look for nits. Lice leave little eggs on the hair shaft, which look like dandruff. These are called "Nits." The best way to determine if it's nits rather than dandruff is to try to brush them out of your child's hair. If it comes off easily, it's dandruff. If it does not brush out easily, it may be a nit.
Treating Head Lice at Home 
Purchase an over-the-counter treatment from your local pharmacy. Home remedies such as mayonnaise, olive oil, etc. are not generally proven to be effective at killing head lice.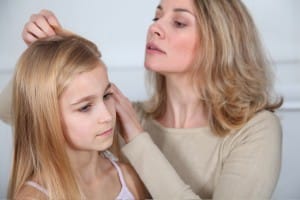 Treating head lice is a bit of a "production," but it's worth the time and effort. I promise!
If the over-the-counter treatment doesn't work, take your child to their pediatrician. More than one treatment may be needed. If all else fails, shaving the child's head will work, but your child may not be too keen on that idea!
Keep your child home from school for 24 hours after they have been treated. Once the 24 hours are over, make sure to check and see if the head lice are really gone. Take your time and check carefully.
Wash any fabric items in the house, such as bedding, stuffed animals, etc. in hot water.
If there are items you're worried may have lice or nits on them which can't be washed, put them in a sealed plastic bag for ten to 14 days (all lice should be hatched and dead by ten to 14 days).
Prevent Your Child's Head Lice from Effecting You
Don't share brushes, other hair care items, bedding or towels with your child. Head lice don't jump from person to person; you have to come into direct contact with them to get them.
If you have long hair, wear it up in a ponytail or bun to avoid your hair coming into contact with your child's hair.
Just the word, "Lice," might have you scratching–it does that to me! If your child gets head lice, do your best to treat it quickly so it doesn't spread to the rest of your family. Teach your children to never share brushes or other hair care items with friends, to decrease their chances of getting lice. And if your child does get head lice, remind them that it does not mean they are "dirty." Tell your child that they just got a bug (literally) and you are treating it together!