Safety Tips for Buying Baby Gear

When I was pregnant with my son, I researched baby gear like baby carriers, infant seats, etc. I was overwhelmed at the large number of options. Do I really need a bouncy seat and a swing? Is a bassinet on the pack and play baby play yard really necessary or useful? I was also concerned about buying baby gear that was budget-friendly and super safe.
To help answer my questions, I started talking to people at work, which is in Rehabilitative Medicine at Children's Hospital Los Angeles. I work with so many knowledgeable nurses, therapists and doctors. It was a great opportunity to learn. After speaking with my fellow colleagues, I learned that not all baby gear is good for my baby or yours.
Did you know some of the gear developed for babies can actually be harmful for their growth and development? Many people believe these products are safe because they're made for babies. To help investigate this issue, I partnered with Kevan Craig, DO, a physician in Children's Hospital Los Angeles' Division of Pediatric Rehabilitation Medicine.
Before I move on, let me be clear that I am not endorsing or condemning any one piece of baby gear or brand, but I want you to know the pros and cons before you purchase.
What to Consider Before Buying Baby Equipment
Here are two good rules to follow when you're shopping for baby gear:
Baby equipment should not put a lot of pressure on your baby's spine. Excessive pressure on a baby's developing spine is not good. Continue reading for tips on what to look for in baby gear that won't hurt your baby's spine.
Baby equipment must keep your baby's hips in a relaxed and natural position. "Opening your baby's legs too much puts undue pressure on their hips and impedes hip development," shares Dr. Craig.  
Safety and Baby Carriers
Baby carriers come in many different forms like backpacks, slings, etc. These are a "lifesaver" when you have a baby. It frees up your arms to do other things. Here are some safety tips on baby carriers:
If you are considering using a sling to carry your baby, be sure you don't use a sling that presses the baby's chin to their chest. This can cause them to stop breathing.
Make sure the baby carrier evenly distributes your baby's weight through their thighs and buttocks and does not put all their weight on a piece of fabric running between their legs. This puts less pressure on their spine and places their legs in a more developmentally correct position.
Dr. Craig cautions: "Also look out for your own bodies, moms! Your baby's carrier should not put too much pressure on your own back, especially if you are petite."
Safety and Infant Seats
Part of a baby's development is going from laying to rolling, rolling to sitting, sitting to crawling, crawling to pulling to stand and eventually standing. Babies do each phase when they have developed the physical maturity to do so. On this note, Dr. Craig shares an easy safety tip to follow, "If your baby is not sitting up on their own or are not developed enough to sit up, putting your baby in a seat that seats them upright can cause injury to their spine, especially their neck."
Skip the molded plastic infant seat until your baby can sit up on their own. If you must use an infant seat, go for a more reclined bouncy seat that supports the baby's head. The safest (and seatless) option is putting your baby on a blanket on the floor and getting down on the floor to play with them. This allows them plenty of play room and interaction with you.
 
Safety and Jumpers, Activity Centers and Walkers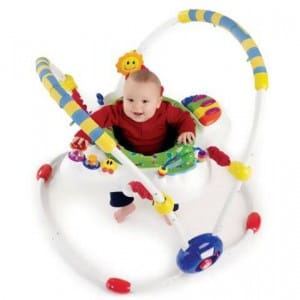 Jumpers and Activity Centers
I admit that the jumper is a "sanity saver" in our house. It could entertain my kids for hours if I let them stay in it that long, but I don't. The reason is because the fabric seat the child sits in puts their hips in a bad position developmentally. That position stresses the hip joint, and can actually cause harm like hip dysplasia, which is the malformation of the hip socket. That's not to say you should never use a jumper – I certainly do – just  keep the time in the jumper or activity center to 10 to 15 minutes and no more than twice per day.
Jumpers that hang in a doorway are the same situation but with a twist. They have the added danger of being able to swing freely from side to side…right into the door frame. Overly enthusiastic "jumpers" (like my son) can pinch fingers, knock their head on the door frame, etc.  Dr. Craig also explains, "A baby's head is proportionally larger than the rest of their body and is very heavy. Swinging too much or with too much force can cause injury to their neck."  As a mom and a rehab nurse, jumpers that hang in the doorway and swing freely are not things I recommend.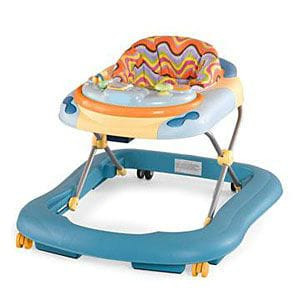 Baby Walkers Baby walkers don't actually help your baby learn to walk because they become dependent on the seat to support them. Additionally, baby walkers have the same seat issues as jumpers and activity centers, which I mentioned above. They also make kids very mobile before they are ready for that type of independence. Babies have flipped over in them, causing brain damage or other harm. Baby walkers are especially dangerous around stairs.
To help your baby walk without the baby walker, we recommend pushing a toy across the floor and staying close to help catch them if (or when) they fall!
The world of baby gear is big and can be confusing. Hopefully this information helps you as you decide what you do and don't want to use for your baby. We all want the best for our kids, and sometimes it's hard to decide what that is. With the right knowledge, we can make the best possible choice for happier, healthier kids!