Safety around Halloween Decorations and Costumes

I grew up in a small town in San Diego County and during Halloween people got creative in their decorations and costumes. They were probably focused on creativity rather than safety. For example, pumpkins were carved with big kitchen knives and fake spider webs were made with whatever you could find around the house. Halloween costumes consisted of a thin plastic mask held by a few staples and an elastic string. This was years ago and still happens today, which is what inspired this blog post. As we enjoy Halloween year after year, safety (and fun) should always be a priority. In this blog post, I talk about the most common safety concerns with Halloween and offer simple and safe solutions.
Safe Pumpkin Carving 
One of my favorite times of year was when we would visit the pumpkin field and pick out our Halloween pumpkins. Our injury prevention team at Children's Hospital Los Angeles created step-by-step videos for safe pumpkin carving. Check it out!
Halloween Lights and Electronic Decorations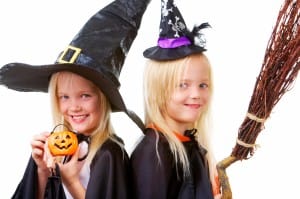 Festive lights are fun to get everyone in spirit of Halloween. When purchasing lights, extension cords and other electronic decorations, purchase items that are UL-listed, which means the product underwent safety testing in a lab approved by the United States federal agency Occupational Safety and Health Administration (OSHA). Use lights and decorations that are meant to be used outdoors, this is usually stated on the packaging. If you put "indoor" lights or decorations outside, wet weather increases the risk of electric shock and fire. If you're not sure if lights or decorations are rated for indoor or outdoor use, just check the color-coded holographic UL mark on the product's package.
Green mark: "Indoors only."
Red mark: "Indoors and outdoors."
Whether your decorations are brand new or used, inspect all lights, electronic decorations and extension cords for wear and tear before using for your Halloween decorating. If your items are in need of repair (i.e. broken bulbs replaced), do not use the items until the repairs have been made. More safety tips to consider:
If cords and plugs are damaged, discard and replace the decoration.
Unplug lights before changing bulbs, replacing fuses or making any other repairs.
Do not overload extension cords.
Know power requirements of lights and decorations before plugging into an extension cord.
Know the wattage rating of your extension cord before you begin plugging in decorations. A wattage rating is the amount of electricity that an extension cord is built to carry, and if the combined power requirements (or "pull") of your lights and decorations exceed that rating, overheating and fire can occur.
Fake Spider Webs
When fake spider webs are assembled correctly, they look and feel pretty real. But there are safety issues to consider.
If you have allergies, avoid getting the spider webbing near your nose.
Young children may mistake the fake spider webbing for cotton candy. Supervise your children if they're helping you put up the spider webbing.
When placing the webbing in a high place, make sure to stand on a stable ladder or sturdy chair.
Costume Masks
For many kids, the costume mask is the highlight of the costume! But emergency departments become crowded every year at this time as a result of injuries sustained because a child could not see properly when wearing the mask or eye injuries from poor fitting. Here are some tips around face masks and safety:
The mask should be "Flame Resistant." This is usually stated on the package.
The eye holes of the mask should be big enough that your child can see in all directions. Without proper visibility, your child may not see traffic hazards while trick or treating, or suffer injury at a Halloween party by tripping over decorations.
The mask should fit securely around your child's head.
The costume should have snaps and velcro for closures in case your child needs to get out of the costume quickly.
A safe alternative to a Halloween mask is face make-up. Why not consider hypoallergenic makeup instead?
Tips for Proper Venting on Face Masks
As a respiratory therapist I feel obligated to remind parents that whenever you place something over your child's face, remember proper ventilation. A child may not realize that he or she is in danger until they begin to experience carbon dioxide poisoning. If your child's costume fits completely around their head, make sure you incorporate plenty of openings to allow a good circulation of air. Don't rely on the commercial mask designs that only seem to provide a few small holes around the mouth and nose. If you are making a Halloween mask at home, include vent holes for the mouth, nose and top of the head. Before you allow your child to wear a mask in public, test it out under adult supervision and if your child reports feeling dizzy or excessively hot, you need to create more venting.
Halloween is fun for families, especially when safety comes first. My sons and I have a great time and I hope you enjoy Halloween and let your imagination run free!
Spread the Word