Prevent Drowning and Falls: Childproofing Tips

Unintentional injury remains one of the top five leading causes of death in children.
The Emergency Department at Children's Hospital Los Angeles sees far too many accidents taking place in the home, ranging from falls, near drowning, poisonings and even burns.
While constant supervision is the best way to prevent injuries, using layers of protection can help reduce the risk of home-related injuries to children. Even the most watchful parents cannot keep kids completely out of harm's way every second, and utilizing tools can aid even the busiest parent. 
As a nurse on the Rehabilitation Unit here at Children's Hospital Los Angeles, I have taken care of children who have nearly drowned, fallen out of a two-story window, and those who have unintentionally overdosed on a family member's medication, just to name a few. I have witnessed the devastation, stress and guilt these situations can cause a family.
That's why I know it is so important for parents to look for potential hazards in their home and take steps to remove them before it's too late. I will address the two general safety area concerns within the home:
Drowning and water safety
Fall prevention
Drowning and Water Safety
The home environment has potential for many hidden drowning hazards for children. Drowning injuries and deaths can occur not only in oceans, pools and spas, but also in bathtubs, toilets and buckets.
Never leave your child unattended in the bathtub or any body of water, even if they know how to swim. A child can drown in just 2 inches of water.
Keep toilet lids closed and use toilet seat locks. Toddlers can fall headfirst into the toilet and drown. It is best to restrict access to danger zones in the home such as bathrooms and kitchens. This can be done with door handle locks or gates.
Empty all buckets, containers and wading pools immediately after use and store upside down and out of reach of small children.
Please read Hot Days, Cool Water: Summer Safety Tips by my colleague, nurse Gloria Verret, to learn more about pool safety at home and how drowning can affect your child. 
Falls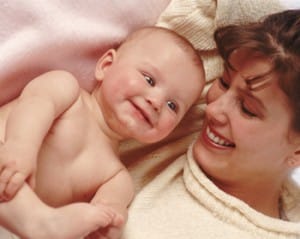 As your child develops he or she will first roll over, then sit and crawl, and before you know it,  walk everywhere.
Your toddler will move faster than your eye can see, so consider some of these safety tips to prevent them from tumbling unsafely in your home:
Use window guards to prevent your child from falling through screens or open windows. Open windows from the top down whenever possible.
Never leave a child unattended around stairs, even if they are in a gated area.
Install hardware-mounted (they are sturdier than pressure-mounted) safety gates at the top and bottom of stairways.
Keep hallways and stairways well-lit and free of clutter (especially toys ... they attract children).
Tack down rugs and runners to prevent tripping.
Child safety seats (car seats) or bouncer seats should NEVER be placed on top of counters or furniture.
Do not place an infant in the middle of an adult bed unattended.
Move furniture away from windows. This reduces a child's ability to climb up to a window.
Secure shelves, TVs, dressers and other furniture that may tip over. Children often climb on furniture and injuries from tip-overs can be quite severe.
These are just a few of the things you can do to child-proof your home.  A few layers of protection can go a long way to keeping your children safe. Stay tuned ... in my follow-up post, I'll provide you with child-proofing tips for fire and poison safety!