Prepare a Visually Impaired Child for Day Care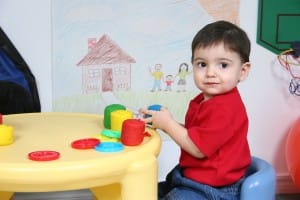 I work with children with various types of special needs and from what I know and have heard parents express is that navigating childcare can be difficult when your child is disabled. This is what inspired my first RN Remedies® blog post about how to prepare a visually impaired child for day care. When I spoke with Carly Stewart, MHA, Clinical Research Coordinator in The Vision Center at Children's Hospital Los Angeles, she said that many parents ask about child care needs for their visually impaired child. Continue reading for helpful tips to reduce the anxiety associated with preparing your visually impaired child for day care, with a goal of creating a safe environment.
Eight Tips: Prepare Your Visually Impaired Child (Tweet this)
Visual impairment does not affect what a child is able to learn, but does affect how a child learns. Everyday communication becomes more challenging, for example, without eye contact, it will be hard to know if they are paying attention. Your child may miss visual cues like smiling and frowning as well as someone pointing or waving.
Be consistent in how you perform tasks. Use a lot of communication in your everyday activities like getting dressed and eating. When putting shoes on, always start with the right foot and provide cues like telling your child you are going to start putting shoes on and you are starting with the right foot. Then ask your child to help you by lifting up their right foot.
Use your voice to communicate how you feel.  Tone and volume can let your child know if you are happy, sad or angry.
Use names when you are talking. When you use names your child knows you are talking to them. This also helps when you are entering or leaving the room.
Allow your child to play with things from a day care setting. This is good preparation for your child because they will become familiar with real objects like glue, paint and play dough. Always describe what they are touching. It will be hard for your child to identify what a toy horse looks like, asks your child to tell you how many legs the horse has.
Describe noises like the garbage truck smashing garbage, phone ringing or the wind blowing leaves on the tree. This will help your child identify noises without seeing the objects.
Take your child on small trips leaving them with a friend or family. This will allow you to see how your child reacts when they are away from you. "A friend, who has experience with visually impaired children, suggests parents talk about what they did while away as well as having your child tell you about their day," said Carly Stewart, MHA, a member of our Vision Center team.
Take your child to visit the day care center before their first day. When you find the perfect day care for your visually impaired child, take your child to visit the facility to become familiar with the environment when no other children are around.
The more information, the better. Provide the day care with this information:
Specific type of blindness
Does your child use a specific object to get around?
Does your child prefer light or a dark room?
List of emergency contacts, including all your child's physicians
List of current medications
Your child's at-home schedule
Does your child have other disabilities? You want to make sure they are prepared to care for your child in case of any emergency.
Does your child like to be touched? Often times the care provider or teacher may place their hand on your child's shoulder for re-assurance.
Guidelines for Choosing a Good Day Care (Tweet this)
Elva Tamashiro, MS, Child Life specialist who works with patients with retinoblastoma, said that finding a program that fits the needs of your child and family may take some time and thought.  Once you have narrowed down your selection, scheduling a visit to each site is important. Here are some important areas you will want to look for in a child care program:
Verify the adult-to-child ratio based on licensing in your state. Small group sizes and adult-to-child ratios encourage the best opportunities for your child's development.
Be informed about their safety of toys and playground equipment.
Make sure the facility is conducive to meet the needs of a child with a visual impairment.
Make sure all caregivers or teachers have experience and education in early childhood development.
Make sure there are opportunities for you to participate in the classroom and have meaningful involvement in the program.
Make sure there are age appropriate activities that encourage opportunities for your child to learn through play.
Does the program provide opportunities for teachers to expand their skills by attending conferences and workshops?
Are the teachers and caregivers flexible and willing to make changes if necessary for your visually impaired child.
Sending your visually impaired child to day care can be scary for your child and the above tips and guidelines will help you begin that journey. Knowing how to prepare or where to go for assistance will make this transition manageable for both of you. There are intervention programs, which I have listed below, that will help the transition.
Intervention Programs
National Network for Child Care
Early Start Program