Pregnancy Complications: Steps to Take for Expecting Moms

The scariest thing that could happen to a pregnant mom is being told that your baby has a complication or a birth defect.
After the initial fears wear off, the thought of navigating the health care system, finding a specialist and scheduling tests can add to the scariness. As a nurse in the Institute for Maternal-Fetal Health at Children's Hospital Los Angeles, we meet many moms who have experienced this exact scenario and are coming to us for help.
What I want to do in this post is help guide moms who wonder what their next steps should be if they have a pregnancy complication.
The Right Path is Everything
There's no doubt that a pregnancy complication or a birth defect in your unborn child can be a life-changing experience. As you go through this experience, here are the steps that one of three of our Nurse Care Managers, the individuals who help moms coordinate their care between our Institute and their referring OB/GYN, Irene Klecha, RN, MSN, regularly outlines for moms who come to us for care. Here's a hint … it's all about communication: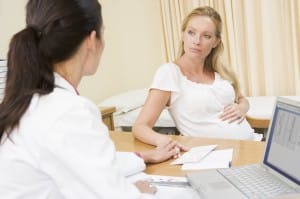 Step One: Stay on the Same Page
It's important that you and your health care provider are on the same page regarding where you go from there. Here's why this is important:  your current health care provider will be crucial in providing you with a referral to a specialist or a group of specialists who specializes in your baby's condition.
Step Two: Get a Second Opinion
If a fetal abnormality is confirmed during your ultrasound, we highly recommend that you get a second opinion a) by a perinatologist b) who is trained in performing a level 3 ultrasound.
Step Three: Meet with a Pediatric Specialist
The care from your perinatologist will be crucial while your baby is still developing in your womb. But the moment your child is born, you will need different care, from a pediatric specialist. Be sure to meet with a pediatric specialist who can explain the abnormality and work with you to decide how best to help your baby after delivery. This is an essential step and it is important not to delay in coordinating this element of your baby's care.
Why I Am Biased
The Institute of Maternal-Fetal Health at Children's Hospital Los Angeles is a special place and I am passionate about working here. A lot of work went into gathering all of the right specialists into a one-stop shop that helps moms and babies get everything they need both before and after delivery.
I am very proud that moms-to-be who come to our Institute can see an entire team of experts who coordinate and schedule consults and exams. The team also has the expertise to council the family. One of the biggest benefits of going to a centralized team like ours is that, with all of the specialists working together as a team, you can work with them to decide on a course of treatment together, keeping the best interests of both mom and baby at heart.
This type of treatment approach is a new approach. Before this approach, many health care providers, depending on the diagnosis of the baby, referred their patients to individual specialists. This was challenging because different specialists could prescribe completely different courses of treatment, leaving pregnant moms frustrated and confused.
Going through this experience is challenging and different for many pregnant women. If your unborn baby is diagnosed with a complication, I hope this post is helpful. Please remember that getting the best care starts with your health care provider and taking simple but important steps to make sure that you benefit from the very best specialists for your baby's condition.
One a final note, I find that support groups and websites help with this process because it allows you to connect with other moms who are experiencing a similar situation. When looking into support groups, make sure the organization is accredited. Below is a list of resources my patients have found very helpful during their difficult time.