Pediatric Health Hazards of Electronic Cigarettes

A few weeks ago my kids came home from school and said electronic cigarettes (e-cigarettes) are safe to use because they heard a teacher say it. I want to teach my boys good values and educate them that e-cigarettes are not safe and can cause harm to their health if they use them.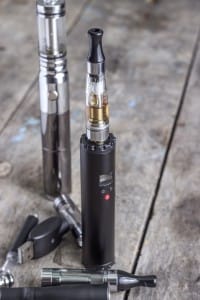 To learn more about how e-cigarettes can affect child (and adult) health, I reached out to one of our hospital's pulmonology experts, Arnold Platzker, MD, from the Division of Pediatric Pulmonology at Children's Hospital Los Angeles for help. In this post, I'll share what he passed on to me.
What are E-Cigarettes?
Before we talk about the health impact of e-cigarettes, I thought you may want to know what e-cigarettes are and how they became available to the community:
E-cigarettes were introduced to the United States in 2007 and most e-cigarettes are similar enough in appearance to be mistaken for regular cigarettes, but one look inside and you'll see the main difference—electronic cigarettes don't contain tobacco. Instead, there's a mechanism inside the e-cigarette that heats up liquid nicotine, which turns it into a vapor that smokers inhale and exhale.
E-cigarettes are not subjected to the same restrictions as regular cigarettes because they don't contain tobacco--which means they can be purchased without proof of age.
Because e-cigarettes are available to kids and teens, smoking may appear popular and cool. For example, a recent report from the Centers for Disease Control (CDC) stated e-cigarette use among high school teens increased by 54 percent from 2012 to 2013.
So, let's find out what Dr. Platzker shared with me about pediatric health hazards of e-cigarettes.
E-cigarettes contain toxic chemicals Not only do e-cigarettes contain nicotine, but they also use hazardous chemicals found in anti-freeze (nitrosamines, ethylene glycol and diethylene glycol). Studies have demonstrated that these chemicals can cause cancer among users.
Vapor from e-cigarettes can cause respiratory illness and addiction Research from a study published in Nicotine and Tobacco Research showed that people in close proximity of exhaled vapor from e-cigarettes may be exposed to nicotine but not many of the other toxins found in e-cigarettes. Experts say more research is needed to determine health hazards of inhaling second hand vapor. The health hazard is mainly on the user, which is another reason to prevent your child or teen from smoking e-cigarettes.
Many people think e-cigarettes can promote quitting smoking, especially because it doesn't contain tobacco. "The argument for e-cigarettes as a means for weaning from nicotine addiction is weak—no better than the nicotine patch that has been studied extensively," shares Dr. Platzker.
Prevent Your Child from Smoking (Tweet this)
As a nurse and father, the increased use of e-cigarettes concerns me. If you believe your child may become exposed to smoking, here are some tips to prevent use:
Talk with your child about the health risks of smoking. It doesn't hurt to offer a friendly reminder a couple times per year.
Don't smoke or let others in your house smoke.
If you find out that your child is smoking, support their efforts to stop and give a lot of positive feedback.
It's likely that you may see more people using e-cigarettes in the future and when you do, I hope you think of this blog post. Together, we can prevent our children from using e-cigarettes (and regular cigarettes). Dr. Platzker shared an important fact, "90 percent of adults who smoke, began smoking before the age of 18." This is a significant reason to prevent children and teens from smoking before the age of 18, to keep them from becoming part of that "90 percent" statistic. I encourage you to share this with other parents so that they know that e-cigarettes are a threat to health.