Missing Your Child's Doctor Appointment: Harmless or Harmful?

We all have heard someone tell us, "Don't miss your doctor appointment." Ever wonder why?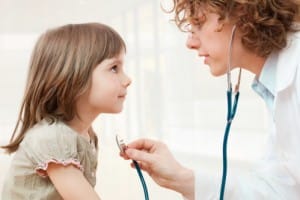 Going to see your doctor for regular health exams and tests can help find problems before they start. It can also aid in early detection of diseases, which increases your chances for successful treatment. This is especially important for children. By getting the right health services, screenings and treatments, you are taking steps to ensure a healthier life for your child. Your child's age, current health state, family history, lifestyle choices and other important factors impact how often you need to follow up with your health care provider (CDC, 2104).
Yvonne Gutierrez, MD, FAAP, medical director of Altamed General Pediatric Clinic, states, "Well-child care visits are very important! They are an opportunity to raise general questions and concerns about your child's development, behavior and general health. These visits are necessary to provide vaccinations and discuss age-appropriate anticipatory guidance, safety and changes in growth. These types of office visits are excellent times to discuss common concerns with patients and families such as eating, sleeping, toilet training and social behaviors, as well as attention and learning difficulties."
Children with special needs are more at risk for health complications, which makes a missed appointment more dangerous. Frank Ing, MD, chief of the Division of Cardiology and co-director of the Heart Institute at Children's Hospital of Los Angeles, explains that when managing complex cases, doctors will have a long-term plan, so missing an appointment would throw off that plan. He notes that sometimes a delay has no consequence, but there are times when missed appointments can lead to a decline in the state of health, such as a worsening heart condition caused by a delay in starting a treatment.
You should also be aware of your physician's office policy on missed appointments, as there can be a potential charge. This is not to punish you at all; the primary reason for the charge is to discourage missed appointments. This also takes away a slot for another sick child in need.
Organizing Tips
Obtain a folder and include the following:
Physician's name, number and specialty.
Name of physician's nurse, if they have one.
Any information you received at your last appointment that needs follow up.
Prescription refill dates—It's important you make your appointment before your child runs out of medications to prevent potential health complications or even hospitalization. This will also save you time trying to obtain a last-minute appointment, calling around obtaining the pharmacy fax number and unnecessary travel expenses.
A calendar with all appointment dates and times. Monika Shah, a pharmacist at the Walgreens located on CHLA's main campus, explains, "When patients miss their appointment they miss their chance of having their Rx's refilled or getting prescriptions filled.  This would make them non-compliant with their treatment and lead to further complications in their therapy."

Try and group multiple appointments on the same day. When your child is being followed by multiple specialties like Cardiology, Pulmonology and GI, it can be hard to keep up with all the names and numbers as well as appointments.
If you have a phone that allows you to place appointments on your calendar, set the alarm as a reminder.

Give yourself extra time for traffic or any other emergencies that arise on appointment day by scheduling items in your calendar 30 minutes before the actual appointment time. For example, if your appointment is at 9:30 a.m., place 9 a.m. on  the calendar.
Communicate with the office when there is a cancellation so another appointment can be made, and the office can notify the doctor in case the appointment pertains to urgent matters and your child needs to be seen sooner than later.
Ask the office if they have reminder phone calls. An article on American Medical News explains that patients are significantly more likely to keep an appointment when they receive a phone call reminder, according to a study from the June American Journal of Medicine.
"It is of utmost importance to go to your scheduled doctor appointments," says Michael Bryant, MD, MBA, division head of Hospital Medicine at CHLA. "Even if your child is doing well, and is healthy, this visit provides an opportunity for your doctor to assess your child's growth and development and provide anticipatory guidance as well as preventive care, including immunizations. Moreover, when you fail to come to your appointment, you deny another patient and family the opportunity to see the doctor."
In summary, it's not just a missed appointment; it's your child's health that could potentially be at risk.