Look For Lead In Your Home

Note: resources for this blog post came from the Centers for Disease Control and Prevention.
Most parents know that lead is bad for children.
We have heard that it was removed from paints and that pencils no longer have lead in them. But the danger of lead still remains.
I had a recent run-in with lead in candy (more in my next post about this topic) and it reminded me that lead can be deadly for children. And the sad thing is that lead can be lurking in or around your home.
In this post I'll go over some things you can do to look for lead in your home.
Why is Lead Harmful?
Lead can damage almost every system in the body (kidneys, brain, nerves, skin and more). Health practitioners like me know that lead can cause irreversible damage after only ONE exposure and be especially harmful for the developing brain of fetuses and young children. Lead can even be harmful even if consumed in small amounts.
High levels of lead in your child's bloodstream can cause irreversible
Learning disabilities
Behavior problems
Mental retardation
At extremely high levels, lead may cause seizure, coma or even death. The greatest risk is for children under the age of six because they are growing so rapidly and because they tend to put their hands, or other objects, contaminated with lead dust, into their mouths.
Lead Often Lurks in Old Homes
Remodeling or Renovating?
If you are planning a remodel or house renovation and your home is older than 1978, you could unknowingly be creating paint dust which your young children could breathe or eat on toys as they play.
Lead in Soil
Outside paint breaks down faster than paints inside a home. This can mean that the dirt in your backyard has lead in it. Even if you do not allow your child to play in the backyard because they might be exposed to lead dust, working in the backyard could cause you, as a parent, to track lead right into the home. If you have a job in home remodeling or renovation, a great practice is to remove your outer work clothes, jackets etc. before entering the home so that lead dust is not tracked inside.
Play Areas
If you live in an older home, or are visiting an older home for a play date, prevent children from playing in bare soil. If possible provide them with a sandbox or play at a park where.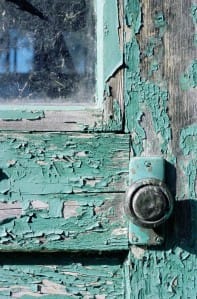 Old houses with peeling paint are the worst offenders for lead poisoning.
The paint dust falls into the soil around the home and can be dangerous
for children playing near an old home like this.
How Can I Prevent Lead Poisoning of My Child?
For more information, I highly recommend that you visit the Centers for Disease Control website where the latest information is always added to keep parents like you and me up to date. Their site offers:
Tips for looking for sources of lead-based paint in and near your home.
Ways to keep your children safe if you live in a home with lead-based paint.
Plus, it tells you who is most at risk.
What Can You Do?
My experience with a few pieces of candy was a great reminder that lead can be anywhere and it's important to safeguard the health of your child. You can help with this effort: