How to Choose the Right Indoor Gym for Your Child

When my wife and I learned that our children had many outdoor allergies, we realized that we were not going to become the baseball or soccer parents that we might have imagined. Our solution was to look into indoor sports programs such as martial arts, gymnastics and swimming. During our search, we focused on the quality of the facility. The facility would have to meet a certain standard of cleanliness, qualified staff and offer an overall physical and emotional benefit to our children.
Health Benefits of Indoor Gyms (Tweet this)
When you are considering enrolling your child at an indoor gym, the health benefits to your child should always be a number one factor. Aside from the physical activity, consider whether the facility teaches good physical health habits such warm ups, stretching, eating healthy and mental challenges, such as critical thinking and decision making.
Be aware that some facilities with a competitive focus will have a more vigorous training curriculum, which can lead to more injuries down the road. If your child does become injured, the Sports Medicine Program at Children's Hospital Los Angeles is a great resource. The challenges your children face and overcome in sports can lead to increased self-confidence and emotional growth. Your children should enjoy themselves and not feel as though showing up for practice or class is a chore. If you do enroll your child in a facility with an intense competitive focus, the staff at the facility should partner with you to encourage your child to reach goals, but understand if your child is not motivated to compete.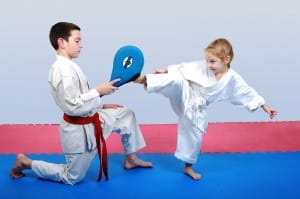 Cleanliness of Indoor Gyms
The level of cleanliness of any indoor sports facility is important to help reduce illness and bacteria. To learn more, I spoke with Mary Virgallito, RN, manager, Infection Control in the Division of Infectious Diseases at Children's Hospital Los Angeles. She told me that indoor sports facilities, without proper infection control procedures in place, can risk exposing you and your child to mold, fungus and even antibiotic resistant bacteria such as MRSA, which has been called, "flesh eating bacteria" or otherwise known as "staph infection." Things to be on the lookout for during your visit:
Look at the locker or bathroom for cleanliness. Is there a cleaning log posted on the wall? A cleaning log shows that there are cleaning procedures in place and make sure the overall cleanliness matches the logbook.
Ask the manager how often the equipment is disinfected, wiped down or cleaned. For example, in martial arts and gymnastics facilities, the mats and other apparatus should be disinfected daily and in good condition free from rips or holes where bacteria can grow.
Is the Staff Qualified? (Tweet this)
The qualifications of the staff are another big factor that should be closely evaluated. I prefer to look at their qualifications in two parts:
The staffs' ability to handle an emergency should one occur. For example, is the staff certified in CPR and first aid?
The staffs' ability to teach the sports activity.
Criteria to consider:
Observe how the instructor(s) interact with the children in a group class. Evaluate if the children are kept engaged in their class and can follow through when practicing the lessons. The best coaches may not always carry the most impressive awards, but can encourage your child to perform to their full potential.
Evaluate whether the coaches can recognize a child's developmental age and how they learn or if the instructor teaches various age groups with the same strategy.
Ask what emergency procedures are in place should an injury occur. Finding a facility with staff certified in CPR and first aid will help ease your safety concerns.
After careful consideration using the criteria above, we chose to send our children to a martial arts (Jiu Jitsu) academy that is clean, safe and involves highly qualified staff that physically and mentally challenge our children. In the several years since joining, we have had the pleasure of watching our children grow their confidence and coordination in an indoor sport that is a great alternative to the standard outdoor sports programs. Visit a number of different places and simply ask yourself in the end whether the facility is a good fit that can nurture your child to help them find the "real joy" in sports.