How to Break Difficult News to Your Child

As a parent, one of the most important parts of your relationship with your child is communication and maintaining an open and honest relationship. Our children look to us for guidance and protection. Information that's good, bad or indifferent will be disseminated to our children whether we like it or not. Personally speaking, I always like to be the first to break news to my son, especially difficult news. That way I can control the environment, and ensure the information provided will be accurate and truthful. This can be a very difficult task, so we should arm ourselves with the tools necessary to do it in the healthiest manner possible for both our little ones and ourselves!
I recently had to break some terrible news to my 8-year-old son. I had to explain to him that someone he knew got hurt and didn't survive. Furthermore, that he also knew the person that caused the harm. To date, that was one of the most difficult conversations I've had with him and it inspired this blog post.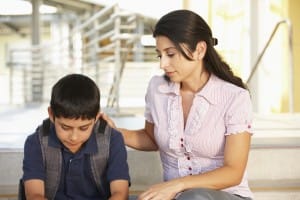 I did some research and educated myself with some helpful tips and tools, and it helped to relieve some of my anxiety. I found that being honest with him and maintaining his sense of security helped tremendously. I wanted to take the time to blog about this because I think this can help all parents.  Some of the things I will discuss are: tips to keep in mind when delivering difficult news to a child, how-to instructions, and resources where parents can find for more detailed information.
Tips for breaking difficult news
I enlisted the assistance of one Children's Hospital Los Angeles' experts, Stephanie Marcy, PhD, a licensed psychologist and assistant professor of clinical pediatrics, and Cristina Chandri, a Child Life specialist. Dr. Marcy and Cristina give the following tips for you to keep in mind.
Consider the age of your child, developmentally and chronologically. Is there a chance your child will hear about it elsewhere? Remember to speak in terms that are age-appropriate, to ensure the child understands.
Your child should be in a calm, familiar and safe environment when it's time to discuss the difficult news.
Demonstrate for your child that you are in control of your own emotions, but that it is okay to show your feelings if you are upset by the news as well. Validate feelings and let him or her know it is okay to experience difficult feelings when receiving bad news.
Be specific when you speak about the event to help your child contain anxiety and maintain a sense of safety in the world despite the distressing event.
Be honest, but filter out what is necessary and what is not. You might tell children something more vague, and let them know that if they hear about something they can always ask you questions about it. For example, there is no clear reason to let a 5-year-old know that children his age were shot and killed in school. However, if that 5-year-old loses a grandparent, it might be appropriate to tell him that his grandparent died and process the information with him.
Take frequent pauses to allow children to ask questions. Let them know that they can ask you anything. Let them know that you may not be able to answer all of their questions, but you will try.
Do not try to reframe something awful as positive to make yourself or your child feel better.
Lead by example and model healthy coping behaviors, like self-care. Planning something special together as a family or doing something community-based (e.g., hosting a lemonade stand to raise money for a special cause).
Predict that your children might feel upset about this later and remind them that they can talk to you about it any time.
If this event is in the news, try to limit your child's exposure to it.
Give your child a task or a job to stay busy and have something to focus on.
Parenting comes with many challenges, and you may be faced with this one some day. Educate yourself with the proper tools like the tips above, so that your children feels supported and will understand the impact the news may have on their life. Remember, you are always the best resource for them because you love them and want the very best for them!
Online resources
Dr. Marcy recommends these websites to help get the conversation started, as well as other tips: