Hot Days, Cool Water: Summer Safety Tips

For me, summer conjures up days of fun in oceans, lakes and pools because I love the water. It also reminds me of some close calls of my own, especially one episode involving my daughter.  In fact, I have told the story repeatedly—I will never forget that day.
On a hot summer day in Atlanta, Georgia, I took my then 2-year-old daughter to the neighborhood public pool. I walked behind her in the shallow end, with the water level just above her stomach. With a little trip, she went under.
The seconds felt like an eternity. While she floated, motionless, I pulled her out of the water. She was perfectly fine, but I realized then just how easily and silently children can drown.
As a nurse on the Rehabilitation Unit here at Children's Hospital Los Angeles, I have taken care of children who have nearly drowned. I have witnessed the neurological devastation it can cause, including severe brain damage and comatose children. That's why I know why it's so important for parents to take care when their children are playing in any kind of water.
What is drowning?
Drowning describes death from asphyxia due to suffocation. This happens when liquid enters the lungs and prevents the absorption of oxygen, starves the victim's brain of oxygen and causes myocardial infarction, or a heart attack.
Drowning is quick and silent. Victims cannot call for help as they do not have enough air. It is rare for a drowning victim to thrash. A child can drown in any amount of water in the time it takes to answer a phone.
For this reason, it is so important not to leave children unattended in or near water. Children can drown in just two inches of water, which can take place in bathtubs, toilets, buckets, anywhere free standing water is found.
According to the World Health Organization, drowning is the third leading cause of adult unintentional death. In the U.S., it is the second leading cause of death in children under the age of 12. The peak age is younger than 4, and between 5 and 25. In children less than 1 year old, deaths are usually in bathtubs. Pools are the cause of drowning death in children less than 5 and in young adults it is usually lakes and rivers, often involving diving or alcohol use.
How to Protect Your Children
If you have a private pool make sure you …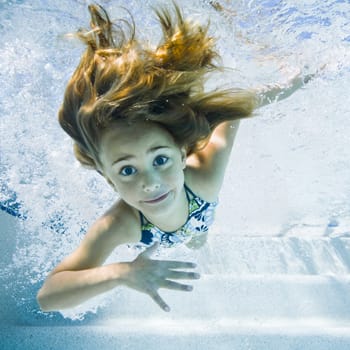 have a secure locked fence or barrier around the pool
install alarms to notify you someone has gotten into the pool area
consider an underwater wave alarm
make sure your pool has no drains or suctions that are unsecured, as children can become trapped in them
keep the water clean and clear so that you can see the bottom and everyone in it
Always have a parent in the pool with younger children so they understand that a parent should always be with them
If you are having a pool day…
assign an adult to watch the pool undistracted from socializing and make sure the adult knows he/she is assigned to this duty
make sure your children know how to swim
make sure you know CPR and have a cell phone nearby to call for help if needed
always have a parent in the pool with younger children so they understand a parent should always be with them
Always Follow the ABC's of Drowning Prevention
A for Adult Supervision
B for Barriers
C for CPR and classes Always use a life jacket for children who cannot swim. Floaties do not provide any protection and should not be considered a water safety device.
Don't Forget to Have Fun!
By taking the proper water safety precautions, you and your family can cool off this summer safely. Keep an eye out for my next post. I'll continue this discussion of water safety with tips on how to keep your children safe in hot tubs, buckets of water and will explain what dry drowning is.