Holiday Travel: Tips and Health Advice for Families

During the holidays, airports and roads are crowded with travelers hoping to spend time with loved ones and close friends. Traveling during the holidays can be extremely stressful due to long lines, challenging road and weather conditions and delayed flights. In this blog post, I'll cover family-friendly travel tips and health precautions when traveling.
Family-Friendly Travel Tips (Tweet this)
Don't pack the entire closet! Make a list of clothes your child will need and plan outfits for you and your children for the duration of your trip. If there are items you can buy at your destination, such as diapers and other toiletries; leave those at home. Pack enough essentials to last you until you can get to the nearest grocery store when you arrive at your destination.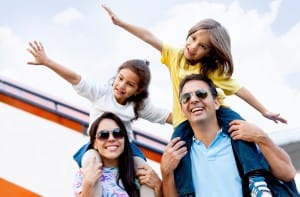 If you are driving, pack everything you want easy access to on the road, separately, so you're not forced to dig around through all the bags. Some items you may want readily available are:
Entertainment items
Jackets or sweaters
Paper towels or napkins
Plastic bags for garbage
Snacks and water
Sanitary wipes
Travel-size first aid kit
Leave Early
Whether you are driving or flying, it's a good idea to leave early because traffic is unpredictable. Arrival time recommendations vary by airport, destination (national or international), day of travel and baggage requirements. Leave your house at least three hours before your flight, so you can have enough time for baggage and security check in. The Transportation Security Administration (TSA) offers helpful tips on what you can and cannot bring on airplanes and into the airport. If you are driving, pack the car the night before. This will help ease the stress of forgetting something and allow you to get on the road quickly.
Snack Attack
Pack snacks your child likes to help avoid spending money at restaurants and convenience stores. Some snacks that travel well are:
Bananas and pre-packaged apple slices
Granola bars
Popcorn
Pretzels and crackers
Raisins
Rice cakes
Sandwiches
String cheese
Reusable spill proof water bottles and or sippy cups are travel friendly for staying hydrated on your journey.
Entertainment for Your Little Ones
Small backpacks are the perfect vessel for carrying coloring books, crayons, games and stuffed animals. It's also a nice way to make sure each child gets to bring what they want. Allow them to choose a favorite toy, game, movie, music or other activity of their choice. If you are traveling with a baby, bring travel friendly toys that can be hung on the back of a seat or attach to the car seat with a few reachable attachments to keep them busy. For older infants and toddlers, audio books or CD's are a great choice of entertainment.
Include Breaks
Bathroom and stretching breaks are good for everyone. The beauty of a road trip is that you can pull over anytime you need to. If you're traveling with toddlers and younger kids, try not to drive more than two to three hours in one stretch. Expecting young kids to sit still that long is unrealistic. Allowing the kids to run around and get rid of some built up energy and allowing you to stretch and walk around is a way to ensure everyone stays in a good mood. Before you leave the house, check online for parks, playgrounds and tourist attractions with an open area to move around along the way.
Altitude Adjustment 
Flying can cause discomfort in your child's ears. Here are some tips to help them cope with ear pain on airplanes.
Since the holiday season coincides with the flu season, traveling can make your family susceptible to germs and illness. One of the best ways to prevent you and your family from becoming ill and passing the flu virus to others is getting the flu shot. To provide more helpful tips, Mary Virgallito, RN, clinical administrator, Infection Prevention and Control at Children's Hospital Los Angeles recommends the following:
Make sure your child is up to date on all routine vaccinations. If you are traveling out of the U.S., research early on to see if additional vaccinations are recommended for your destination. The Centers for Disease Control and Prevention's (CDC) website is a good resource.
Pack a travel size first aid kit and hand sanitizer.
Pack important phone numbers and information, like your child's doctor, copy of health insurance cards and vaccination records.
Refill and pack your child's prescribed medications and any daily vitamins.
Your child should ride in an age-appropriate car seat. Most rental car agencies have them available.
One thing you shouldn't forget, whether you're flying or driving, is to stretch your legs. If you find yourself in a cramped area or sitting for a long time, you could develop a blood clot in your legs. Take some time to walk around and stretch your arms and legs especially on an airplane at least once every hour. Remember to also stay well hydrated!
I hope this blog post was helpful in preparing you and your family for your holiday travels. Remember, the most important tip of all is to be flexible. Lines will be long, traffic will be heavy, flights will be delayed and children (and adults) may get grumpy. With the tips above, a little planning and an open mind, you and your family can enjoy the holidays safely and remain healthy.