High Fructose Corn Syrup and Your Child's Diet

A new school year begins in a few weeks, which means your child will likely cross paths with vending machines, enjoy classroom celebrations and treats from school cafeterias. Although I know that it is near impossible to control everything that your children eats, I hope this blog helps guide you in making healthier choices for you and your family.
One of the things that will make its way into your child's diet at some point is high fructose corn syrup (HFCS). There is a lot of research and opinions on HFCS being circulated in the literature and on the web. I wanted to educate myself on the facts about HFCS and thought that what I found would interest you and continue to help you in creating a healthy lifestyle.
What is High Fructose Corn Syrup?
Before I get to recommendations, it is important to understand what HFCS actually is. Contrary to some ideas, HFCS is not a sweetener created from extra high concentrations of fructose, as the name may suggest. According to the Academy of Nutrition and Dietetics, HFCS is produced from corn syrup, which is typically 100% glucose. This syrup is processed to increase the amount of fructose and is then blended with glucose. Fructose is a sugar naturally found in fruits, while glucose is a simple sugar used as a source of energy for the body.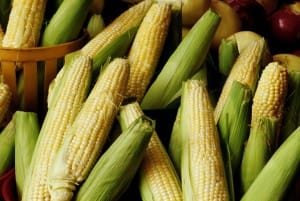 Interesting facts about HFCS:
It's used to sweeten foods and drinks, especially processed and store-bought foods
It's just as sweet as table sugar
It blends well with other foods
It has a longer shelf life than other sweeteners, such as cane sugar
It's less expensive than other sweeteners
It can range in fructose content from 42% fructose in baked goods to 55% fructose in beverages (table sugar is 50% fructose)
What is Research Saying about HFCS?
Research findings are divided.
Some research suggests that because fructose and glucose in HFCS are "blended" together, rather than chemically bonded like table sugar, the fructose gets absorbed into the body more quickly. Researchers say this affects the blood glucose and insulin levels and therefore is responsible for increasing the rate of obesity in our population.
There is other research that suggests this is not true and there are nearly no differences in absorption between HFCS and other sweeteners.
According to the American Medical Association, the consumption of added sweeteners and calories has increased over the past 30 years (about the time HFCS was introduced). On the other hand, rates of obesity have risen even in countries where HFCS is rarely consumed.
So, What Now?
While there is still research to be done with HFCS, you are best advised to watch your own as well as your family's intake of any type of added sugar.
According to the Centers for Disease Control and Prevention (CDC), the recommendation is that no more than 15% of daily calories should come from both sugar AND fats combined. Federal health officials report that the added sugar in drinks and foods make up almost 16% of the calories that US children and teens consume. Table sugar as well as HFCS has about 4 calories per gram, so there are about 8-16 calories in a typical restaurant sugar packet.
While sugar and caloric sweeteners themselves are not necessarily evil, an excess of sugar in your diet can be responsible for an increased obesity risk, high triglyceride levels in the blood, high cholesterol, heart disease and more.
Go to http://www.sugarstacks.com to see examples of the amount of sugars in common foods and drinks.
When it comes to sugar, eat smart! Here are some tips that can help:
Read the ingredients
Sugar can lurk in very unexpected places such as peanut butter, "fat free" products, instant or powdered drink mixes, banana chips, chicken nuggets, ketchup and more.
Know about hidden sugars
Hidden sugars or sweeteners can go by other names like: dextrose, fructose, molasses, sucrose, corn sweetener, fruit juice concentrates, cane juice, agave syrup and sorghum.
Add less sugar in your recipes
Add less sugar than the recipe call for in your baking and in your cooking in general. Did you know that most of the time you can use 1/3 less sugar in baking recipes without changing the texture or taste of the food? For example, my husband made lemonade from fresh lemons the other day. The recipe called for two cups of sugar, but we used one cup. Making the change was so simple and uncomplicated. The lemonade tasted great.
I hope that the above information about HFCS and sugar can help you make better choices on your way to a healthier lifestyle. If you or your child has medical conditions, corn or other food allergies, be sure to check with your doctor for any foods that should be limited or avoided.
Acknowledgement: Thank you to Linda Heller, MS, RD, CSP, CLE, Clinical Nutrition Manager of Clinical Nutrition Services, for her help with reference sources for this post.
Post Edits: A reference to
honey and shelf life was removed as the shelf life of honey hsa not been fully determined.