Help Your Child Avoid Holiday Burnout

As I enjoy each holiday season with my children, I want the next year to be better then the last. I tend to go a bit overboard because I want their memories to be magical because the holidays are so special. This does not come without a cost, the holidays are a barrage of emotions for my boys, including over-stimulation of events, parties, indulgent food and kids expecting too much. The following are some tips to avoid the common pitfalls to avoid holiday burnout for your children.
Five Ways to Avoid Over-stimulation (Tweet this)
While the words "stress-free" and "holidays" don't often go together, stress is contagious but so is joy! The American Psychology Association noted that 91 percent of children are aware of parent stress.  Holidays bring an increase in emotions, spending, entertaining, traveling, changes in routine and family stress. Here are five tips to avoid over-stimulation of events and parties:
Have a schedule of events. This is especially helpful to give your child on days where there are special activities containing many transitions between locations and events. Whether it's a written schedule or one with pictures for younger kids, your child will feel calmer and safer knowing what is coming up. Discuss the schedule regularly and provide information for each event. For example, let your child know which events will take place outside and which will be loud or crowded. If your child knows what to expect, it can help ease their anxiety.
Set expectations together, as a family. Before you leave for holiday parties, parades or other fun events, have a quick family meeting so your family knows how long you plan to stay and expectations for behavior.
Make sleep schedule a priority. Continue to make your child's sleep schedule a priority, even in the midst of the many holiday events.
Throw a smaller holiday bash. Children can be overstimulated in a party environment, so try having smaller gatherings instead of one big blow out. Set up a safe space your child can enjoy downtime when they feel overstimulated at your house or other location. Bring earphones and their favorite music and books.
Give children age-appropriate assignments to help make the holiday joyful and memorable. Involving children creates memories, increases self-esteem and strengthens family bonds. Resist the urge to redo their contribution, it's okay to let the napkin be on the wrong side.
Overcome Indulgent Food
During the holidays there are large meals, dessert platters, cookie trays and candies. It can be easy to overlook the amount of food your child eats. Before the holidays begin, make a family commitment to enjoy everything in moderation. For example, don't forget to incorporate vegetables and whole grains (e.g. barley, brown rice) on your dinner plate. This will help prevent you and your family from feeling sluggish, possibly gaining weight and interruptions in your digestive system. Drink plenty of water because the cold dry air can make your child dehydrated, as well as the sugar and fatty foods associated with the holidays. My fellow RN Remedies blogger, Tere Jones, offers tips for incorporating veggies and fruits into your meals. Additionally, maintaining a healthy lifestyle by eating right and enjoying things in moderation can help boost your immune system!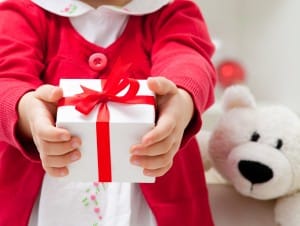 Get Active with Your Family
Did you know exercising can combat stress? Doing small amounts of exercise for 20 minutes, three times a week can make a huge impact. Here are some ideas for getting active with your family:
Register for a family "fun run" in your community
Take a walk in the neighborhood
Play a sport (e.g. football, soccer) in the backyard
If weather permits, go a family hike
Prevent Your Kids from Expecting Too Much (Tweet this)
During the holidays (and everyday) we want our kids to be happy and as parents we can easily overdo it with gift giving. How can we find the balance between gift giving, making children happy and being realistic? I spoke with Stephanie Marcy, PhD, psychologist at Children's Hospital Los Angeles to get her expert tips for preventing kids from expecting too much. She recommends,
More is not necessarily better.  A child is likely to become overwhelmed by a sea of gifts, and become more focused on moving on to the next one and next one in an unwrapping frenzy rather than appreciate and enjoy the actual gift.
Consider getting one "big" gift – the thing your child has persistently been asking for rather than the thing they just saw on a commercial, and then a few smaller gifts. Try to not let your child know they are getting a big gift, so it will be a big surprise and something they are very excited about
Think about stringing out the gifts over the course of the day or days. Hanukkah naturally lends itself to multiple days of gifts.  For families who celebrate Christmas, many have utilized the "12 days of Christmas" approach and give a gift a day.
Communicate with extended family openly about type and number of gifts so that they don't undermine your approach inadvertently.
Here are some questions to ask yourself before you purchase your holiday gift:
Is this gift age appropriate? For example, a 10-year-old should not be receiving a gift meant for a six-year-old or a 15-year-old.
Is this gift meeting your child's needs or yours?
Is this gift dangerous?
If you answer "Yes" to any of the questions, you may want to reconsider buying the gift. Find gifts you know your child will be grateful to receive. For example, consider the new bike they've been talking about for months, a board game they've been "eyeing," a book from their favorite author, or concert tickets to see their favorite band.
Now that the holidays are nearly here, I plan to decorate and allow my boys the wonderful world of family memories. However, I will accomplish all this by following the tips in this blog post, especially making a family commitment to eat holiday treats moderately, being active and demonstrating a realistic approach to gifts to prevent my boys from expecting too much. By doing this, we can have a wonderful stress-free holiday season in our humble home!