Flu Season: Signs, Symptoms & Avoiding Catching It

The fall season is upon us and so is the dreaded FLU Season.  As a pediatric nurse, it's important to me to share some information about avoiding catching the flu because children can be more significantly affected by the flu than adults, as can individuals at any age with existing medical conditions.
As a result, it's important to be able to know the signs and symptoms so that you can protect your family members from catching it.  It's also important to understand all you can about flu prevention so you can keep your families safe this season. (Check out efforts at Children's Hospital Los Angeles to prevent the spread of flu.)
Below, I've provided a bit of information about flu symptoms, as well as my answers to the most common questions I am asked about flu vaccination.
But First…What is the Flu?
Influenza or the "flu" is a contagious respiratory disease spread through coughing, sneezing or nasal secretions.  It is caused by the flu virus.  Contracting the flu causes absences at work or at school. 
Flu Signs and Symptoms
The most common symptoms of the flu are below in alphabetical order.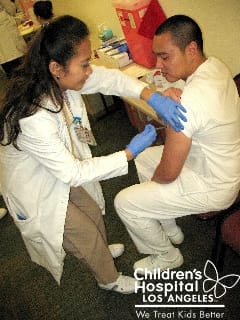 Chills
Coughing
Extreme tiredness
Fatigue
Fever
Headache
Muscle aches
Sneezing
Sore throat
Children can also experience diarrhea with the flu, so be sure to watch for this symptom  as well. 
Prevention
If I Just Avoid People When They Cough or Sneeze, Won't I Be OK?
The simple answer is "no."
Adults can be contagious one full day before their symptoms appear. 
Young children can also spread the virus before they show any sign of being sick. 
Persons whose immune systems are severely compromised can also spread the virus for weeks and months. 
Therefore, you can even pass on the flu before you know you are sick.
Additionally, tiny droplets from your neighbor's coughing or sneezing can travel up to three feet away.
Vaccination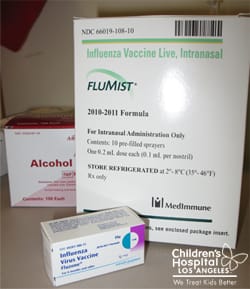 The World Health Organization and the Centers for Disease Control highly recommend obtaining the vaccine for everyone in your family in order to prevent contracting or spreading the flu virus.
Because the flu virus can be spread before you show symptoms of illness, our hospital provides us the opportunity to get the vaccine for free well before flu season starts so our immunity will be rock solid before flu season hits.
"This year, the single most important health issue for younger children is to make sure they receive their recommended vaccinations," explains Jill Hoffman, MD, a pediatric infectious disease specialist at Childrens Hospital Los Angeles.
Here's who else is recommended to get the vaccine:
Those who are at high risk for severe flu and flu-related complications
Children aged 6 months to 5 years
Pregnant women
Persons aged from 50 years and over
Anyone with chronic medical condition 
Persons living in nursing homes and long term care facilities
Persons who live with and care for high-risk individuals
Caregivers of those who are younger than 6 months of age
What if I am Afraid of Needles?
You may be able to obtain the vaccine as a nasal spray.
What is the Difference Between the Shot and the Spray?
| | | |
| --- | --- | --- |
|   | Injection or "Shot" | Spray |
| Type of vaccine | Killed | Live, weakened |
| Age given | Older than six months | 2 to 49 years old |
| Safe for pregnant women | Yes | No |
| Health Status | Healthy or with chronic medical conditions | Healthy only |
 In addition, for some people, the flu vaccine can cause an allergic reaction.
Where Can I Get Vaccinated?
You can get the flu shots from three places:
Your primary doctor
Your local pharmacy
Flu clinics at hospitals
Healthcare workers may be able to obtain flu shots for free in their workplace.
What about the Swine Flu Vaccine?
For 2010, the H1N1 virus has been incorporated in this year's regular flu vaccine.  For more information about the flu vaccine, we encourage you to visit the CDC's Flu website.
In the meantime, please take every precaution you can to protect your family during flu season.  Children are often at the greatest risk for having difficulty fighting off the flu. 
Will the Vaccine Make Me Sick?
The risk of the flu vaccine causing serious harm or illness is extremely small.  Some people have reported muscle aches, fever, runny nose, cough, chills, tiredness - the signs of the flu!  These mostly come from the nasal spray.  Most people who do complain of being sick report being tired or not feeling well for about one to two days.  If a severe reaction occurs, call your doctor right away. 
Please Share
During flu season, the most important way to avoid getting sick is to be informed! Please forward this post to anyone you believe would benefit from this information, especially parents of young children. Stay healthy!