Bullying and Your Child: Ways You Can Prevent it Offline and Online

Updated 05/12/2015
Bullying is an issue I follow in the news and try to spotlight when I can because it is so harmful, even deadly. I have written about ways to detect bullying, some tips to prevent it, cyber bullying and bullying of autistic children. I also follow the Bully Project on Facebook to see first-hand stories, not just of bullying, but overcoming bullying and to read the stories of those people are who stepping up and speaking out against bullying. It was no surprise then, to pick up the L.A. Times and find an article titled "Research finds bullying worse than child abuse."
I had just attended a nursing conference where one group reported that spinal cord and bone injuries in the Emergency Room were more severe in abused children than children who had been in an accident.
So bullying is worse than child abuse? Yes, and here is what the article reports in studies in the UK and the U.S.
Bullied children in the United Kingdom are 60 percent more likely to have mental health problems as those who were abused physically, emotionally or sexually.
In the U.S., they are four times more likely to have mental health problems.
Earlier studies have shown the abused or bullied children grow up to have higher rates of depression, anxiety and suicidal feelings. But for the first time, researchers have found that bullying is actually worse!
The English children were 70 percent more likely to suffer from depression for wanting to hurt themselves than children who were abused. American children were five times more likely to have anxiety if they were bullied than if they were abused. In both groups, almost half of those who were abused by adults were also bullied by other kids.
Below you will find my tips on bullying prevention.
Original 08/24/2012
Over the past couple of years bullying has become a hot topic, especially with cyber bullying in the news. It breaks my heart to hear stories on the news of young kids committing suicide as a result of being bullied online. When I think about bullying in my childhood, I have a couple of memories that stand out. If I took the short-cut home from grade school, the neighborhood bullies would throw snowballs at me. It was not fun. I also remember being with a noisy group of girls in eighth grade who were going to bully another girl at the swimming pool. I said "No, let's not do that." I then went to talk to the girl. Fortunately, the bullies turned away and the girl became my best friend through college. I was always glad I stood up for the girl at the pool. She was a much more suitable friend and I did not want to see anyone hurt.
While the times have changed, it appears that bullying today is not so different, with the exception of cyber bullying. For example, when my daughter was in elementary school in the late 1990's there was a culture of no bullying. The principal said this every day, "Keep your hands and your feet to yourself. Treat others like you want to be treated."
Bullying Prevention Begins with You
As a parent, I've encouraged my daughter to be honest and tell me if she is bullied at school or online. Also, make it a priority to see if your child's school has a policy against bullying and what their process is. This would be a good topic for your next PTA (Parent Teacher Association) meeting. Adults must model a "no bullying" lifestyle every day. If your child sees you being rude and offensive to others, they may believe this is acceptable behavior in how to treat others.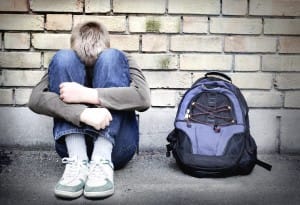 The U.S. government has a website, stopbullying.gov, with a lot of valuable information. The website gives advice to parents, teachers and kids on what to do when they witness bullying and how we all can prevent bullying before it starts. One of the main messages on this website is that adults should get involved when they witness bullying.
The Do's and Don'ts When You Witness Bullying
Do
Intervene immediately. Get another adult if needed.
Separate all kids involved.
Make sure everyone is safe. Get police help if violence is apparent, threatened or weapons are involved.
Meet immediate medical needs.
Stay calm and model respectful behavior, no matter the situation.
Don't
Immediately try to investigate the facts.
Get physically involved if there is violence.
Force other kids to say what they saw.
Talk to the kids together, only separately.
Make the kids apologize on the spot.
Cyber Bullying and How You Can Prevent it
It's reported that in 2011, 16 percent of high school students were bullied online in the past year. This is a shocking statistic and parents should be aware of this because bullying is linked to many negative outcomes including depression, alcohol and drug abuse, skipping school, lowered grades, lowered self-esteem, health problems and even suicide. How You Can Prevent Cyber Bullying
Find out what email and social networking sites your kids are on and ask about their online activities there.
Install parental filters and ask for their passwords.
"Friend" your kids on social networking.
Encourage your kids to tell you if they or someone they know is being bullied online.
Teach your kids cybersafety. For example, tell them not post offensive comments or inappropriate pictures.
Take These Steps if Your Child is Being Cyber Bullied
Report it immediately to the social network or email provider (i.e. Facebook, Twitter, Yahoo Mail etc), law enforcement and the school.
Do not respond to the bully. Instead record dates, times and descriptions of events.
Save and print screenshots of social networking messages, emails and text messages.
Bullying will be an issue for a long time. I hope this blog post helps you realize how you can make a difference in your child's life and others if they are a victim of bullying. I would love to hear about how you've taken action against bullying. We can all learn from one another!  
Resources: L.A. Times