Bullying and Autism Spectrum Disorder (ASD): How to Help Your Child

Last August I wrote about the alarming issue of bullying, which is a profound public health problem in our nation's schools and on social media. Bullying of kids with Autism Spectrum Disorder (ASD) is a major problem too. In fact, bullying a person with disabilities is against federal law and is considered a violation of civil rights. 46 percent of kids with autism in middle and high school reported being victimized in 2011 and some studies show that 70 percent of kids with autism, that are mainstreamed, are bullied. I was shocked when I read about it on StopBullying.gov. This inspired me to investigate the issue of bullying and how it affects kids with autism and offer ways you can help.
I partnered with Kathryn Smith, RN, DrPh, a Nurse Care Manager and Cody Haight, MPH, Project Coordinator in Children's Hospital Los Angeles Boone Fetter Clinic, which is a member of the Autism Treatment Network supported by Autism Speaks. Partnering with Dr. Smith and Cody allowed me to learn more about ASD and why kids with the condition are uniquely vulnerable to bullying.
What Makes Autistic Kids Vulnerable to Bullying?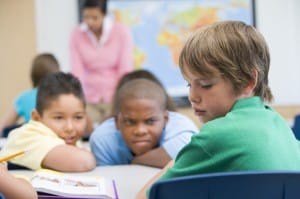 An inability to communicate certain thoughts and feelingsWhile bullying is not uncommon, even for kids not diagnosed with ASD, there are certain characteristics of autistic kids that make them an easier target for bullying. Kids diagnosed with ASD may have some or all of these characteristics:
Show limited control over what is happening around them and situations
Have feelings of inadequacy and poor self-esteem
Difficulty understanding facial expressions, tone of voice and body language of others
Socially cut off from their peers
Labeled as "inadequate" by their peers or teachers
Appear depressed or self-destructive
Due to the fact that many kids with ASD find it hard to understand other kids' tone of voice or body language, they may not even know when they are being bullied. Additionally, since they cannot accurately communicate certain thoughts and feelings, they may accidently offend a peer or classmate and set themselves up for bullying. Autistic kids often cannot verbally defend themselves, cannot problem solve and may not be able to relate bullying episodes in words. Bystanders like parents, teachers and peers have great power to stop bullying. More than 50 percent of bullying situations stop when someone intervenes. In my research, I learned of a variety of ways that parents and teachers can take a role in bullying prevention.
How Parents Can Help Autistic Kids Avoid Being Bullied
As a parent, there are some ways you can help an autistic child being bullied.
Let school officials know if you hear about your own child or another child being bullied.
Help our child talk about the problem with conversation starter cards like ones you can find on the Substance Abuse and Mental Health Services website.
Help your child make friends by encouraging out-of-classroom play time with others.
Autism Speaks offers a great anti-bullying "toolkit"
How Parents Can Help Prevent Bullying
In my previous post about bullying prevention, I offered some ways to step-in when you witness bullying first-hand. Here are ways you can be empowered to prevent bullying before it starts.
Talk to your child about bullying and why it's wrong to mistreat others. Offer examples of good and acceptable interaction with others.
If the child is especially at risk for bullying, have him or her stay close to playground supervisors at lunch and recess.
Don't allow your child to bring valuables or money to school.
Create a detailed schedule for recess (e.g. five minutes jump rope, five minutes on the swings, etc.)
Ask your child's teacher about a "buddy system" to walk your child to and from classes.
How Teachers Can Help Prevent Bullying
Teachers are often on the front lines when bullying occurs during the school day. There are some steps you can take if you're a teacher to help an autistic child avoid being bullied or escape a bullying situation.
Always follow the school's procedures for reporting and addressing bullying behavior.
Encourage the bullied student to talk about what happened. It helps to let the student know you believe them and are concerned.
If the student cannot verbalize what happened, use writing, journaling or drawing methods.
Reassure the student that reporting the situation is not "tattling" on another student.
If the school you work at doesn't have a formal process in place to address bullying, here are steps you can take:
Step in the middle of the situation and stop it.
Communicate the rules that are being violated, like "keep your hands and feet to yourself" and "no insults allowed."
Meet with the bullied student in a safe place to provide support and discuss what happened.
Talk to other kids that witnessed the situation and calmly talk about what happened.
Meet with the kid who was responsible for the bullying and encourage an apology.
Do NOT insist the two kids to "make-up" on the spot without speaking with the bully first. It helps to explain to the bully that what he or she did was wrong and to encourage a sincere apology.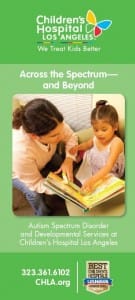 In my research, all studies talk about the need for better anti-bullying methods at the school level. Why not become involved? For example, set up a parent advisory committee and hold meetings on how to address the issue. Whether your child is bullied or is a bully, find out what is happening and find out how to help solve this health problem. Doing so can have profound effects for everyone involved. Children's Hospital Los Angeles Boone Fetter Clinic (CHLA.org/Autism) is a great resource for patients and families with ASD or thought to have ASD. Here is a Boone Fetter Clinic brochure for you or anyone you know who has kids diagnosed with ASD. If you have questions about autism or think your child may have ASD, call the Boone Fetter Clinic's Autism Warm Phone Line at 323-361-6102. Many thanks to Kathryn Smith, RN, DRPh and Cody Haight, MPH, for their help with this post and offering their expert tips and resources.