Breathing Room: Using a Spacer with Your Child's Inhaler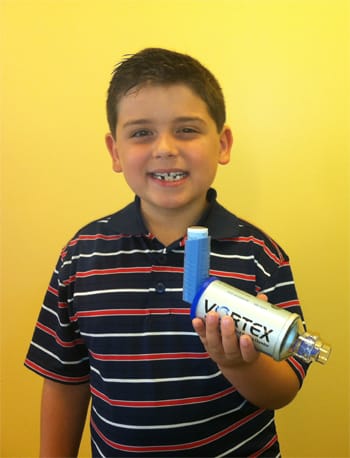 It can be very difficult for children using inhalers to coordinate pressing the inhaler and breathing in at the same time.
Using a spacer with an inhaler can help your child get the proper amount of medicine into his or her lungs.
A spacer looks like a round plastic tube that fits on the mouthpiece of your child's inhaler. Typically, spacers are prescribed by doctors.
Benefits of Using a Spacer
Helps your child to breathe at his or her own rate
More medicine gets into the lungs
Prevents medicine from leaking into the air
How to Properly Use a Spacer
The spacer looks easy to use but there are steps you can take to ensure your child is using it correctly and that it is cleaned properly. They are as follows:
Shake the inhaler for several seconds.
If this is the first time using this inhaler, prime it as you normally would by pressing down on it and spraying it into the air away from you several times.
Insert the mouthpiece of the inhaler snugly into the spacer.
Exhale (breathe out) fully through your mouth.
Put the spacer in your mouth with your lips and teeth around the mouthpiece.
Press down on the inhaler ONE time only.
Inhale (breathe in) slowly and deeply for 3 to 5 seconds.
Hold your breath for at least 10 seconds.
Exhale.
Repeat dose as ordered.
Properly Cleaning an Inhaler
The medicine from your inhaler can create a film on your spacer. Over time, this residue can block medicine from getting into your child's lungs. It is important to properly clean your child's spacer. Always follow the manufacturer's cleaning instructions. Below, find some basic cleaning instructions:
Take the rubber backpiece and mouthpiece of your spacer off the round plastic tube. Take off the mask if you have one.
Soak all parts for 15-20 minutes in a bowl of lukewarm water and a bit of dishwashing soap.
Move around in the water very gently.
Rinse parts thoroughly in warm water.
Shake out any excess water from all parts and air dry completely.
Make sure all parts are completely dry before reassembling the spacer.
Clean your spacer weekly and after any sickness.
Wipe the mouthpiece and/or mask off after each use.
If you follow these steps then your child will get more medicine into his/her lungs, and feel better much quicker!