Breastfeeding Outside Your Home

The topic of breastfeeding in public has long been a subject of debate and confusion, particularly in the United States. Experts encourage women to breastfeed on their babies' feeding schedule while some members of the community disapprove when moms breastfeed outside their home. Breastfeeding provides babies with the best nutrition and helps drive down health care costs and childhood ailments—more reason to encourage women to breastfeed when they need to, even if that means doing so outside the home, with modesty.
Public Feeding: Seven Tips to Help You Prepare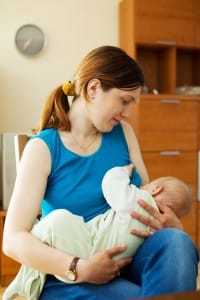 1. Know your rights. All nursing mothers need to understand their rights, under state and national laws, when it comes to breastfeeding.
Under the Affordable Care Act and the Reconciliation Act of 2010: "Employers are required to provide 'reasonable break time for an employee to express breast milk for her nursing baby for one year after the baby's birth each time such employee has need to express the milk.' Employers are also required to provide 'a place, other than a bathroom, that is shielded from view and free from intrusion from coworkers and the public, which may be used by an employee to express breast milk'."
The National Conference of State Legislatures contains a lot of great information on how each state incorporates breastfeeding into its laws. I encourage you to visit its website.
2. Practice in the mirror. Before you and your baby leave your home, practice a latch in the mirror to be aware of how much you are exposing. This way you are able to adjust when in public.
3. Wear comfortable clothes. It's important to have clothes that are comfortable, make feeding easy and keep your bare skin covered. Get creative! A loose-fitting T-shirt, a shirt with buttons down the center, jacket, cardigan or shawl can easily be used to cover exposed skin without impeding the feedings.
4. Wear a breastfeeding-specific bra. Many companies make bras that flip down to make breastfeeding easy. If this is not practical for monetary reasons you can take a tight-fitting tank top and cut two holes big enough for the nipple and areola and wear that under your regular garments.
5. Use a cover-up. There are many companies that produce a variety of cover-ups used for nursing. You can also find videos on YouTube for great do-it-yourself (DIY) nursing cover-ups to make at home.
6. Pick an appropriate location. Choose your feeding location before you need to feed. Many public locations have nursing rooms or chose a quiet corner or less obvious table to provide you with some privacy.
7. Feed before your baby becomes irritable. It is not always possible, but learning to read your baby's hunger cues can allow you to start a feeding before your baby becomes fussy and cries. Feeding a calm baby in public can be much easier. Knowing these tips before you leave your home and expect to nurse in public can make your nursing experience more enjoyable. If you have any experiences or tips that you would like to share with other moms please write a comment. I would love to hear from you!!