Boats, Children and the Need for a Life Jacket
Summer is here! Schools are closed and children may be found happily playing indoors to avoid the record heat. Pretty soon the kids need an outdoor getaway, but it is so hot outside. The hot days may be made more bearable if you and the family can get on a boat, feel the wind in your hair and the mist of the ocean or lake cool you down. After all, the children know how to swim so they will be safe right? You pack up a tasty meal, grab the drinks, sunscreen, sunglasses and off to the boat you go. Did you check to see if the life jackets (also known as personal floatation devices or PFD) were included? Life Jackets are the single most important thing you can do to prevent an accidental boat-related drowning. Boat-related drowning is big a problem, for example, 9 out of 10 people in boat-related incidents were not wearing a life jacket and drowned.
For this post, I partnered with Francesca Cazzulino, CPST, Health Education Associate in Children's Hospital Los Angeles Injury Prevention Program to highlight the importance of life jackets and how to properly fit one on your child.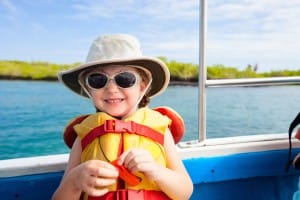 Life Jackets are the single most important
thing you can do to prevent an accidental
boat-related drowning.
Why Wearing a Life Jacket is a Priority
Most everyone on the boat knows how to swim so life vests are not needed … Wrong! Even the best swimmers can drown in the ocean or even in the still waters of a lake. These tips will promote safety when you and your family are on a boat:
ALWAYS wear a life jacket on a boat. This is the safest thing to do.
"When on the boat, make sure there is easy access to everyone's life jacket," says Francesca.
Do not buy a life jacket that is too big for your child to grow into because that is not safe and can slip off if the child wiggles around too much in the water.
Make sure the life jackets you plan to buy for your family are properly fitted. Keep reading for tips on how to properly fit a life jacket!
Arm floaties are never acceptable. "A child wearing arm floaties still has the ability to go under water with their arms over their head and drown," stresses Francesca.
When your child wears a life jacket in the water, their head should be above water and facing the sky.
How to Properly Fit a Life Jacket for Your Child
You may understand the importance of a life jacket but you aren't sure how to get the proper fit. This happens often. According to the California Department of Boating and Waterways, here is how you determine the proper fit:
Make sure your life jacket is U.S. Coast Guard approved.
Life jackets that are meant for adults are NOT meant for children.
Check the label on the life jacket to be sure it's the right fit for your child's height and weight.
Make sure to have your child try on the life jacket before buying it.
Make sure the jacket is properly zipped or buckled when your child is wearing it on the boat.
Have your child raise their arms straight over their head while wearing a life jacket and ask a grasp the tops of the arm openings and gently pull up. If there is excess room above the openings and the jacket rides-up over their chin or face, it does not fit properly. A snug fit in these areas signals a properly fitting jacket.
Summer activities, boating and life jackets equals a happy, safe and cool summer! Enjoy the summer and be safe.