Bicycle Helmets: Getting the Right Fit

Riding a bicycle can be one of the great joys in life. It can bring a sense of independence and accomplishment to a young child. But it can also be dangerous if proper safety precautions aren't taken.
At Children's Hospital Los Angeles, we treat numerous head injuries in our Emergency Department, as a Level I Pediatric Trauma Center. As a result, we are passionate about helping parents to avoid a trip to the emergency room.  And the best way to do this is through prevention, starting with a helmet.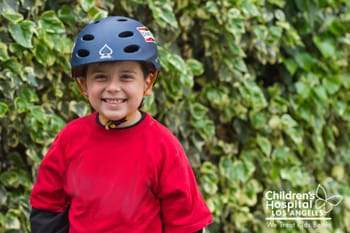 Why Wear a Helmet?
An unexpected fall from a bike can happen at any time and has the potential to result in serious brain injury. The good news is that a properly-fitting helmet will reduce this risk. According to the National Highway Traffic Safety Administration, more children age 5 to 14 go to hospital emergency rooms for injuries associated with bicycles than any other sport. A child's helmet must fit right NOW—do  not buy a helmet for them to "grow into." As a child's head grows, you will need to replace the helmet. Everyone, including adults, should wear a helmet every time a bicycle is ridden. However, it is NOT enough to just wear a helmet. A helmet needs to fit properly in order to provide the highest level of head protection and should always be worn with the chin strap fastened.
Steps to a Correct Bike Helmet Fit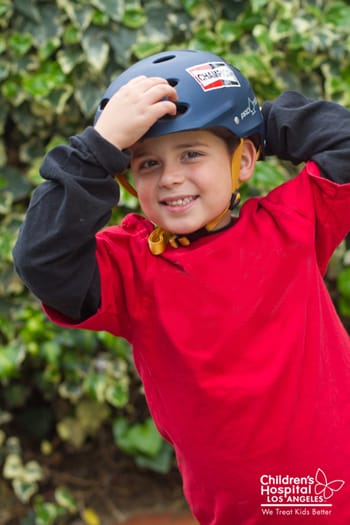 Step 1: Size
Don't buy a helmet without trying it on for size. Make sure the helmet fits snugly. While it is sitting flat on top of your head, make sure the helmet cannot move side to side. Sizing Pads Sizing pads come with new helmets; use them if you need a more secure fit. You can remove the extra pads if your child's head grows. Universal Fit Ring If the helmet has a universal fit ring instead of pads, adjust the ring size to fit snugly on your head.
Step 2: Position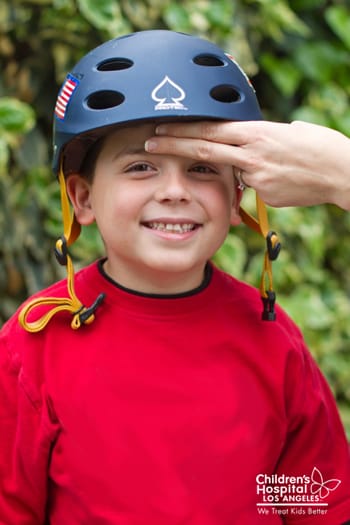 The helmet should sit LOW on your forehead. There should only be one or two finger-widths above your eyebrow. Your child should be able to look upward and see the front rim of your bicycle helmet on your own head.
Step 3: Side Straps
The left and right side straps should form a "Y" and meet right below your ear.  The side straps may be easier to adjust if you take the helmet off your head.  Roll the little rubber band as close to the side straps as possible to prevent slipping.
Step 4: Chin Strap (Buckle)
Buckle the chin strap. Tighten the chin strap until it is snug. No more than one finger should be able to fit under the strap. Take a look at the first image at the top of the post to see how this should look.
Step 5: Final Check
Does the helmet fit right?  Open your mouth really wide! The helmet should pull down on the head. If it does not, then refer to Step 4 and re-adjust the chin strap.
Is your helmet in the right position on your forehead? When looking up, you should be able to see the front of the helmet visor. If you can't see it, unbuckle and tighten the side straps, retighten the chin strap and test again.
Does your helmet lean forward into your eyes? If so, unbuckle the helmet, re-adjust the side straps/chin strap and test again.
Does your helmet slip and move while you shake your head? You may need to apply the sizing pads for a more snug fit or readjust the universal fit ring if your helmet has one.
Roll the rubber band down to the buckle. All four straps must go through the rubber band and be close to the buckle to prevent the buckle from possibly slipping.
Reasons to Replace a Bicycle Helmet
Your child's head has outgrown the helmet size.
Your child has crashed in the helmet.
The helmet has been dropped onto concrete or a hard surface (even a drop of a helmet can damage it so that it no longer provides the right protection for your child's head).
Have you been involved in a crash? Replace any helmet that has been involved in a crash or is even slightly damaged.
Bicycle Helmet Fittings
Watch for us in your community.  We often visit community health fairs and help kids fit their own bike helmets so they know the steps to getting the right bicycle helmet fit.
Other Safety Considerations
Additional Safety Gear
In addition to helmets, kneepads, elbow pads and wrist guards should also be worn when in-line skating.
Adult Supervision
Children under the age of 8 should ride scooters only with a grown-up close by.
Clothing
Avoid loose or dangly clothes that could get caught in the bike chain, pedals or wheels, or could block your vision.
Biking at Night
When biking in the dark, make sure to wear brightly-colored clothes to help drivers see bikers. Install headlights and rear lights for added safety.
Obey all Traffic Signs and Signals.
Ride in the same direction as traffic and stop at all intersections including driveways and alleys. Use hand signals before turning and look both ways.
Please Share
Sadly, biking lands more than a quarter-million children a year in U.S. Emergency departments with injuries. More than 40 percent of all deaths from biking head injuries happen to children ages 14 and under. (Source: National Safe Kids Campaign- www.safekids.org) While many parents realize how important it is to wear a helmet, they might not know just how crucial it is that the helmet fit properly. Please share this post with other parents and help us spread the word!