13 Fun Fitness Tips and Ideas

Did you know May is National Physical Fitness and Sports Month? Even though it's one month, being active and participating in sports should be a year-round thing, even during the winter. However, with summer approaching, there is no better time to encourage your child to go outside to play and be active.
Childhood obesity is at an all-time high in the United States. I found a statistic that 1 in 3 children in California are overweight or obese. Did you know that 70 percent of children who are overweight or obese when they are young are highly likely to become overweight, obese adults? Keeping your child kids healthy and fit is important for their health because being overweight can put your child at risk for:
Diabetes
Fatty liver disease
Heart problems
High blood pressure
Joint problems
Age and Physical Activity
The recommended times for daily physical activity vary by age.
Age range
Daily activity time
Suggested activities
Ages 2-5
30 minutes or more of physical
activity per day.
Encourage playful activity in small bursts
throughout the day.
Ages 6-17
60 minutes or more of physical
activity per day.

Gymnastics
Running or jogging
Soccer
Swimming
Volleyball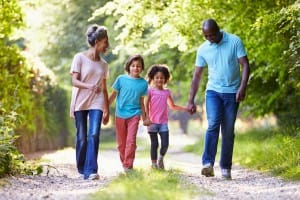 For children ages 6-17, being fit includes strengthening their muscles and bones. I'm not suggesting weight-lifting but you can help your child strengthen their muscles by doing kid friendly activities such as push-ups, climbing on the monkey bars or sit ups. Children incorporate flexibility in their everyday act by doing things such as reaching for toys, bending down to tie their shoes or doing cartwheels. Remind your child to stretch before exercise or do yoga to increase flexibility.
If your child has medical problems, talk to their pediatrician about specific types and intensity of physical activity recommended for your individual child.
Family Fun Activity Ideas
To help provide fun ideas for keeping or starting your family on a healthy and fit lifestyle, I partnered with Physical Therapist, Rubi Vazquez, PT, DPT. Rubi cares for and helps patients in the Department of Rehabilitation Services and EMPOWER Weight Management Clinic at Children's Hospital Los Angeles.
Park your car farther away from the entry to stores and restaurants you visit.
Take the stairs instead of the elevator or escalator.
Create a calendar and fill each day with a family activity, such as jump rope, playing catch, etc.
Plan a family fitness day on a weekend, where each member chooses a fun activity.
Have a dance party at home and ask each family member (even dad) to make up their own dance move!
Stretch, as a family, before bedtime (wearing pajamas is encouraged).
While watching television with your family, encourage your children to join you for 1-2 minutes of lunges or pushups during commercial breaks.
Enroll your child on a sports team. Participating in a team sport will also help develop teamwork skills, good sportsmanship and coordination.
Get the entire family pedometers. A pedometer is an inexpensive, fantastic device to help keep track of physical activity by measuring the number of steps that are taken each day. The more walking or running, the more steps that are counted. A fun idea is to see who takes the most steps each week and offer a fun prize!
Family walks around the neighborhood. Taking a walk after eating a meal is a great way to stimulate digestion and catch some fresh air.
Develop healthy eating habits for the entire family. Make sure that you child's diet is filled with nutrient rich fruits and veggies. It is best that children drink water and milk. Avoid soda and fruit juice, as these are full of sugar.
Stay active even on a rainy day. Just because your child can't play outside because it's raining doesn't mean it's time to turn on the TV. Put on music and encourage your kids dance in the house, walk briskly in an indoor mall or take a trip to your community center and swim in the indoor pool (if there is one).
Don't assume that because your child participates in physical education (PE) at school that this is enough physical activity to keep your child fit. Many schools do not have daily PE and often the amount of time spent is not a solid 60 minutes of moderate to vigorous intensity activity. Ask your child's school leaders how much physical activity your child is getting during the school day.
With all the activity ideas, keeping your child safe should be a priority too. Don't forget a helmet for bike riding, rollerblading, roller skating and using their scooter! Make sure that your child is wearing proper footwear for exercise like tennis shoes rather than flip flops or other open toed shoes. It may also be important for your child to get special glasses for certain sports if they wear prescription lenses.
Now that you've read these tips, let's get moving. Happy National Fitness Month!