Trainee Spotlight: Heather Ogana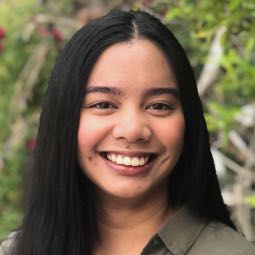 Heather Ogana
A fourth-year PhD candidate, Heather is researching the role of integrin beta-1 in pediatric acute myeloid leukemia.
Heather's first exposure to research came as an undergraduate at the University of California, Davis. Working under a PhD student mentor in a biochemistry lab, she was fascinated by the idea of discovering how life works at a molecular and cellular level.
Then, after graduating, her dad passed away from stage 4 lung cancer. Heather resolved to focus her career on developing cancer therapies to improve patients' lives. She spent two years in the biotech industry in the San Francisco Bay Area, working on biologics for liquid cancers.
"I was told I have magic hands for molecular cloning!" Heather says. "But after learning a lot of technical skills, I wanted to become an independent research scientist."
She is now a fourth-year PhD student in the USC Cancer Biology and Genomics program. At CHLA, she works with Yong-Mi Kim, MD, PhD, to study the role of integrin beta-1 in pediatric acute myeloid leukemia. "I hope to understand how targeted therapy of integrin beta-1 may alleviate drug resistance in this type of cancer," she explains.
Originally from San Jose, Heather enjoys experiencing different L.A. coffee shops; playing her favorite game, Animal Crossing; and going to trivia night at local breweries with her classmates.