Staff Spotlight: Paolo Neviani, PhD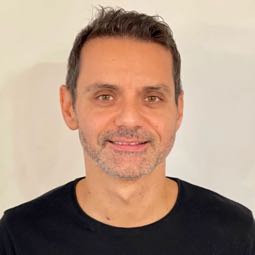 Paolo Neviani, PhD
Technical Director, Extracellular Vesicle Core
Paolo was a postdoc at The Ohio State University when a friend in another lab told him about a newly discovered mechanism cells use to communicate: extracellular vesicles.
"I was fascinated," he remembers. "What really surprised me was that this mechanism allows cells to exchange a whole package of information, including DNA and RNA."
That interest eventually led Paolo to CHLA, where he took a postdoc position in 2014 studying extracellular vesicles in neuroblastoma. In 2018, he proposed opening an Extracellular Vesicle Core, and he's been directing it ever since—assisting researchers in isolating, characterizing and analyzing the vesicles to better understand their biology and support the development of potential clinical applications, including liquid biopsies and regenerative medicine.
"I like interacting with so many different people and labs and helping them develop their projects," he says. "A lot of scientists are interested in this field, but it's still very new, and they may not know where to start. The Core is the starting point."
Paolo is originally from a small village outside of Modena, Italy—famous for its balsamic vinegar. ("If it doesn't say it's from Modena, don't buy it!" he advises, laughing.) He has two cats and enjoys yoga, meditation, running and his newest hobby: slacklining at the beach. "It's like walking on a rope, but it's flat," Paolo explains. "I started it during the pandemic. It was my excuse to go to the beach as much as possible!"