RESEARCHLA 2021 HIGHLIGHTS
In the News

CAR T-cell therapy is a powerful agent against leukemia when traditional chemotherapies fail, but the therapy has not been successful in solid tumors and other cancers. Shahab Asgharzadeh, MD, and colleagues modified CAR T-cells to be more potent and selective using a technology called SynNotch gating. The preclinical study, published in Nature Communications, suggests a potential for more widespread use of CAR T-cell therapy.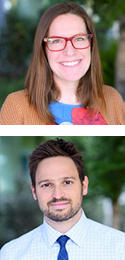 Etan Orgel, MD, MS, and Diana Moke, MD, MS, conducted the largest study to date characterizing hearing loss associated with the common chemotherapy agent cisplatin. This landmark study, published in The Lancet Child & Adolescent Health, provides new insights into which children are at risk for hearing loss and suggests future approaches to minimize hearing loss without compromising treatment. Dr. Orgel also will lead a randomized phase 2 clinical trial through the Therapeutic Advances in Childhood Leukemia & Lymphoma (TACL) consortium, headquartered at Children's Hospital Los Angeles. The Associated Press reported on phase 1 of the IDEAL trial, which showed diet and exercise can improve the effectiveness of chemotherapy in children with leukemia.

Attending Surgeon Lorraine Kelley-Quon, MD, was the lead author on the first-ever set of guidelines for safely prescribing opioids to manage pain after children's surgery. The evidence-based guidelines, published in JAMA Surgery, were reported by The New York Times.