Well, That's a First!
California's first Surgeon General, Dr. Nadine Burke Harris, visits Children's Hospital Los Angeles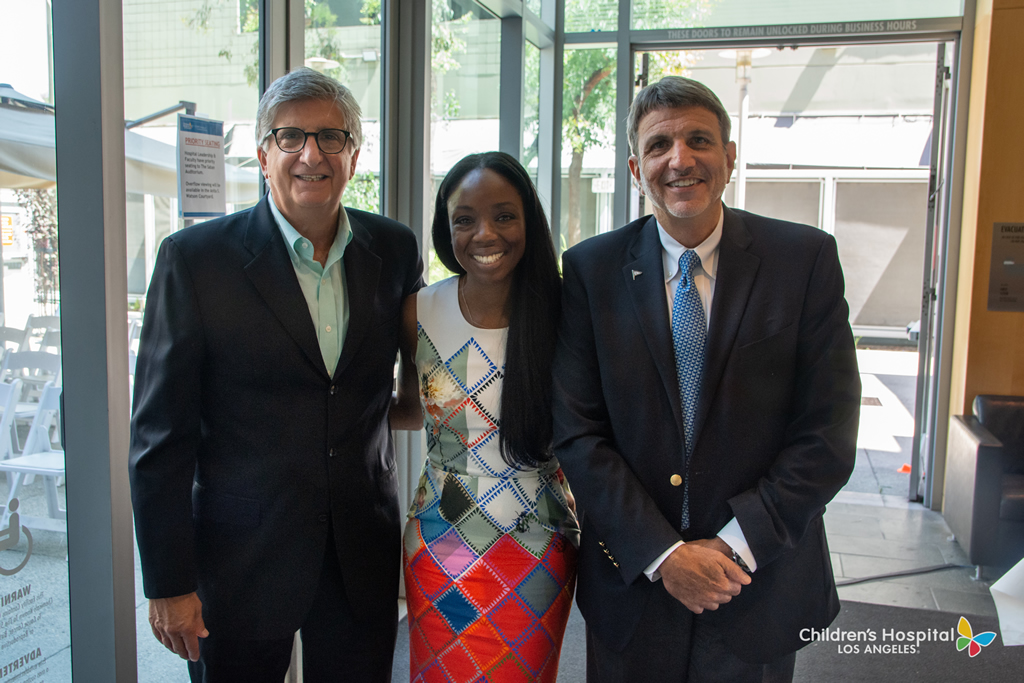 One of the reasons to conduct research at a pediatric institution is that getting evidence-based answers sooner can lead to real changes in health outcomes for children. These benefits persist throughout an individual's lifetime.
Pat Levitt, PhD, Chief Scientific Officer and investigator at CHLA's Saban Research Institute runs a laboratory that focuses on early child development. He and others at CHLA study how early life stress adversely affects brain and body development. Their research shows that factors in the social environment can significantly impact brain and metabolic functioning. If we can use these discoveries to shape pediatric care and buffer early life stress, real differences can be achieved in lifelong health.
You know who agrees with this? Nadine Burke Harris, MD, MPH, FAAP, California's current, and first, Surgeon General. Long before her appointment, Dr. Burke Harris began focusing on increasing health equity among diverse populations in California. She is passionate about using evidence-based practices to better serve children. Dr. Burke Harris was invited by Dr. Levitt to present at Pediatric Grand Rounds at CHLA and meet with leadership and clinical trainees.
Her presentation was stirring - it was based on data and hypotheses, but it was also full of passion and hope. Dr. Burke discussed the impact of adverse childhood experiences (or ACEs) on an individual's health: ACEs increase risk for cardiovascular disease, cancer, diabetes, and mental illnesses later in life. She also presented plans to have California at the forefront of developing programs to mitigate the impact of ACEs.
Dr. Levitt shares the Surgeon General's drive for translating research answers into real changes in health policy. He and Dr. Burke-Harris served on a committee that led to the July 2019 report Vibrant and Healthy Kids: Aligning Science, Practice, and Policy to Advance Health Equity. This publication represents an important step in translating scientific discoveries into real changes in health policy and pediatric practice.
Publication citation:
National Academies of Sciences, Engineering, and Medicine 2019. Vibrant and Healthy Kids: Aligning Science, Practice, and Policy to Advance Health Equity. Washington, DC: The National Academies Press. https://doi.org/10.17226/25466
Download for free here: