Vaping ≠ No Risk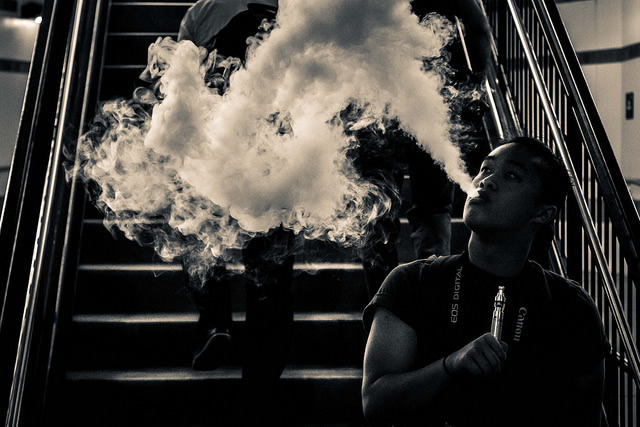 "When I ask my patients, they tell me 'no, I don't smoke'," says Diane Tanaka, MD, medical director of Adolescent and Young Adult Medicine at Children's Hospital Los Angeles. "It wasn't until I saw them with e-cigarettes that I realized that I wasn't asking the right question." Her patients don't equate vaping with smoking because they believe the risk is so much less than that of traditional cigarettes.
Electronic cigarettes – known as e-cigarettes – were originally developed as a product to help smokers quit. However, the FDA has not approved their use for smoking cessation and, according to a recent study, adult smokers who used
e-cigarettes were 28 percent less likely to quit smoking conventional cigarettes.  Instead of helping smokers get rid of a bad habit, it appears that the devices have provided just one more. Young people are also picking up the habit. Between 2013 and 2014, the number of middle and high school students using e-cigarettes had tripled.
Battery-operated, the e-cigarette heats a nicotine-containing fluid (e-liquid) until it becomes vaporized and can be inhaled – that's why the process is called "vaping". The e-liquid is made of nicotine extracted from tobacco, along with flavors, a base substance of propylene glycol (a popular ingredient in antifreeze) and other assorted chemicals.
"These ingredients are far from benign," says Tanaka. "The flavorings, some of which have been shown to have cytotoxic effects, are designed to create an ultrafine particle that penetrates deeply into the lungs. Particulates from tobacco smoke don't get that far into the lungs, so greater penetration is a real concern."
Unlike conventional tobacco products, e-cigarettes are not regulated by the FDA. In addition to the absence of standardization or regulation of ingredients, this lack of oversight means that e-cigarettes can be relentlessly promoted for use by minors, as evidenced by advertisements for flavors such as gummi bear, fireball and bubble gum.  According to a study published in 2015 in JAMA Pediatrics, kids can readily buy them online, making e-cigarettes more accessible than traditional cigarettes.  Other research supports these finding – the CDC reports that e-cigarette use by high school students climbed from 4.5 percent in 2013 to 13.4 percent in 2014. Over the same time period, use by middle-schoolers went from 1.1 percent to 3.9 percent.
In addition to being highly addictive, nicotine is also known to negatively impact adolescent brain development. Use by adolescents and young adults has been linked to behavioral and cognitive effects, including impairment of memory and focus. These effects may be heightened since the quantity of nicotine ingested is largely unknown. A 2014 study showed that the amount of nicotine indicated on the packages was not consistent with what the products actually contained. So, it may not be surprising to learn that nicotine poisoning has resulted in an increase in the number of calls to poison control centers and the unfortunate death of a toddler who ingested nicotine-containing e-liquid, likely because of the candy flavoring.
"Since teens view e-cigarettes as a safe alternative to tobacco, it's important that health care providers ask their patients about e-cigarette use and then provide targeted education about the health risks associated with their use," says Tanaka.
Image credit: micadew, Creative Commons Attribution-ShareAlike 2.0 Generic