Precision medicine prompts a 180 ̊ change for Sophia's rare cancer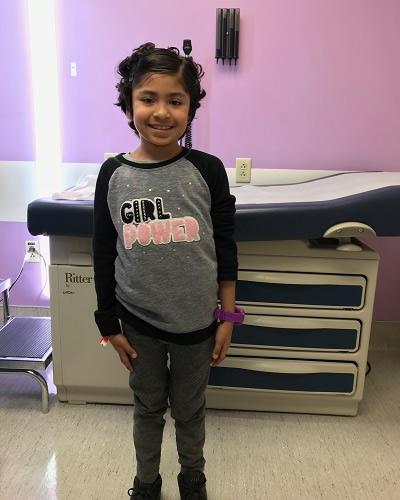 The sidewalk was smooth and the sky was clear, so Sophia Cabrera took out her skateboard and went for a ride. Before she could return home, she fell, landed in a heap and broke her arm. Funny thing is, she and her family couldn't have been happier. Falls and fractures are regular mishaps for an 8-year-old, and regular was something Sophia hadn't been in a long time.
Only a year before, Sophia was bedridden and using an oxygen tank to breathe. She had a rare cancer—a genetic soft tissue sarcoma diagnosed when she was 4—that caused tumors and lesions throughout her body, collecting in her lungs and in the joints of her legs. It was too painful for her to walk on her own and her parents had to carry her or use a stroller to take her anywhere.
Just shy of her fifth birthday, Sophia had surgery to remove several tumors growing in her lungs. When the tumors returned only a few months later, she began an 18-month odyssey of chemotherapy treatments. The chemotherapy failed to keep the cancer at bay, so the family brought her to Children's Hospital Los Angeles for a second opinion.
Leo Mascarenhas MD, MS, deputy director of the Children's Center for Cancer and Blood Diseases, told the family that Sophia's soft tissue sarcoma was linked to a congenital defect known as TRK fusion, which accelerates cancer cell growth. The timing of their visit was excellent, as Mascarenhas had just launched a clinical trial in oncology using a novel therapy called larotrectinib that targets the specific genetic mutation that was causing tumors to form in Sophia's soft tissue.
Several of the pediatric patients enrolled in the study—formally titled the Names Family Foundation Early Phase Clinical Trials Program—had infantile fibrosarcoma, a cancerous soft tissue tumor that harbors a TRK fusion, just like Sophia's cancer, and is difficult to treat since it responds poorly to chemotherapy. Unlike most cancer therapies, the new oral remedy addresses the genetic traits of the tumor and not the organ where the cancer originated. Both children and adults participating in the clinical trial, afflicted with a variety of cancers occurring throughout the body, were responding well to the new therapy.  
The Cabrera family made the decision to try it and Sophia began taking larotrectineb in March last year. Her mother, Guadalupe, was encouraged by how quickly and efficiently the drug began to work.
Within a week, there were important signs that Sophia's condition was improving. She was breathing better and she was able to talk for longer periods without losing her breath or coughing.  She had even begun to sing along with cartoons and videos again. Her mother also noticed that the tumors and lesions began to shrink up and disappear, averting the need for surgery.
"Sophia quickly went from not walking, not talking and not breathing on her own to being able to do all of those things and more," Guadalupe says. "My daughter went back to being a happy, energetic and active child."
A year from the start of treatment, Sophia now feels up for anything. She's able to walk and run, play hula hoop and jump rope, and she's eager to participate in P.E. classes and play on the jungle gym at recess.
"This is truly a magic bullet for our patients with TRK-positive cancer," says Mascarenhas. The director of the study, he also helped design its pediatric piece. "In some cases, this cancer can be treated surgically, often requiring amputation or another disfiguring surgical procedure. After treating another of our patients with infantile fibrosarcoma with larotrectinib, the cancer shrunk sufficiently and we were able to perform a far less invasive surgery to remove the remaining tumor."
The study is part of a noteworthy drug-development program. Typically, testing of new therapies in a pediatric population is done after the drug is licensed for adults, if at all. However, larotrectinib was simultaneously studied in children and adults. A special liquid formulation was developed for administering appropriate doses to very young patients.
The U.S. Food and Drug Administration has granted larotrectinib "breakthrough therapy" designation, which will result in an expedited review. A drug may qualify as a breakthrough therapy when preliminary clinical data indicate that it offers substantial advantages over existing options for serious or life-threatening diseases. Considering the outcome the new remedy brought about with Sophia, the designation is well-earned.
The results of the multisite phase ½ clinical trial were published in the New England Journal of Medicine on Feb. 22, 2018.
Image courtesy of Children's Hospital Los Angeles