A Long Line of Successes: 40 Years at the Forefront of Pediatric Cancer Research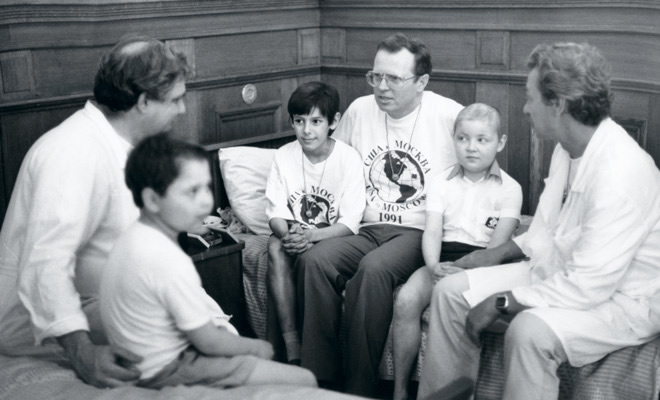 Robert Seeger, MD (center), in 1991
Cell lines, or populations of identical cells maintained in a laboratory, are fundamental to even the most basic of biomedical research. With a thriving cell line, researchers do not have to rely on precious, and often rare, patient samples.
"You can be doing some research this week, but then you might wait six weeks to get another sample. So with cell lines, if you had the energy, you could crank things out 24/7," says Robert C. Seeger, MD, who in 1977 established two new neuroblastoma cell lines; only three had existed previously. What started as a way to foster basic research into neuroblastoma, a pediatric cancer of the sympathetic nervous system, would eventually lead to the creation of the first-ever immunotherapy drug (dinutuximab) approved by the Food and Drug Administration (FDA) to treat pediatric cancer.
In fact, few have had as much of an impact on the understanding and treatment of a single disease as Seeger has had on neuroblastoma, which affects roughly 700 children annually in the United States alone. Seeger, who has served as director of the Cancer Research Program in The Saban Research Institute of Children's Hospital Los Angeles since 1995, has been at the forefront of cancer immunotherapy and genetics for decades. From his contributions to the creation of dinutuximab, to his work on genetically based risk stratification for neuroblastoma patients, to identifying and treating patients with residual neuroblastoma post-treatment, Seeger has changed the game.
Read the whole story in the latest edition of ResearCHLA Magazine!