Life After Sickle Cell Diagnosis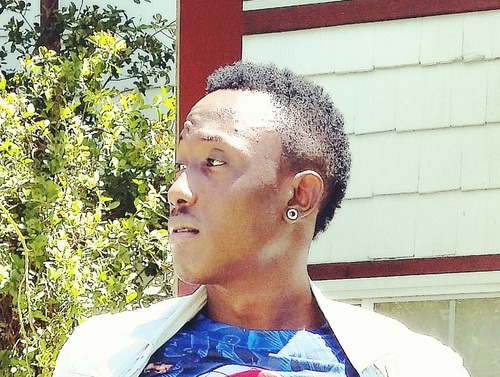 Twenty-five year old Brandon Smith doesn't look chronically ill. After all, he's 6'4,210 lbs., can bench 355 lbs., and describes some of his favorite activities as "hitting the gym and lifting weights." But at two years old, Brandon was diagnosed with sickle cell disease by doctors at Children's Hospital Los Angeles (CHLA).
An inherited condition, sickle cell disease is characterized by crescent-shaped red blood cells—instead of healthy, rounded discs. Because of their abnormal shape, the sickled cells cannot carry oxygen efficiently, leading to fatigue, dizziness and chronic pain. Patients with this disease also periodically experience "sickle cell crises" when the misshapen cells block blood flow to the organs and limbs. This can cause extreme pain and increase risk for strokes and organ damage.
"After my diagnosis, I was fine for a couple of years until I turned eight and had two minor strokes," recalls Brandon. "I remember having to go to the bathroom and putting hot water on my hands because they wouldn't stop shaking."
Since then, Brandon returns to CHLA every three weeks for blood transfusions.
By the time he was a teenager, these routine pokes and prods turned his veins into scar tissue and a catheter had to be permanently inserted into his chest. Because of the risk of dislodging the catheter, Brandon was sidelined from playing his favorite sports, and he returned to his first love: XBOX.
"Ever since I was little, I had to have the newest videogames and try to figure out every way to beat them."
This passion prompted him to study graphic design and he hopes to create and design his own videogames in the future, along with accomplishing his main goal of becoming a bodybuilder.
In addition to videogames and weightlifting, Brandon enjoys watching anything sports-related and spending time with his family. As with everything else in his life, Brandon doesn't hide behind his diagnosis; when he meets someone for the first time, he is sure to tell them that he has sickle cell disease.
"I don't want to mask what's happening with me internally. I don't want to start hanging out with people and have something happen that I can't be open about. Sometimes my mother will even tell me, 'Ok Brandon, you should calm down and take care of yourself because you don't want to get sick right now.'"
This loving and supportive network not only includes close family and friends, but his "CHLA-family" as well.
"I've known Brandon the entire 11 years I have worked at CHLA," remarks Dawn Canada, LCSW. "He has turned his back on being a 'victim,' seeing little benefit in that, and has chosen instead to show that one can be victorious, despite having sickle cell disease. It's no surprise that Brandon was recently recognized as a Sickle Cell Champion [by California Sickle Cell Resources], because he is a champion in every sense of the word and I am a better person for knowing him!"
With his infectiously positive attitude, Brandon is encouraged to set an example for other people with sickle cell disease. He knows just about everything there is to know about his condition and uses his experience to help his two younger brothers—who also have sickle cell disease—get through the tough times. Brandon actively shares his story on sickle cell support pages on Facebook, encourages other kids with the disease to follow him on Instagram and has donated his bone marrow for sickle cell disease research. He's willing to do anything to help out now, knowing that his actions can shape the way this condition affects people in the future.
"Don't get me wrong, sickle cell is a very serious disease, but I want to show other kids that you don't have to let the disease control you—it's a mind over matter situation. Try to go out and be active. Drink lots of water, stay calm and stay healthy. If you stand there and fight, you can overcome anything."