Meet Some of our Research Trainees
Michael Schumacher, PhD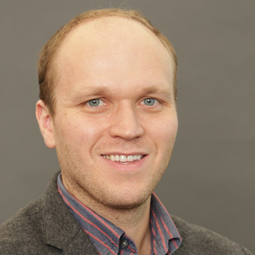 Mike is a postdoctoral researcher in Dr. Mark Frey's lab looking for alternate therapeutic targets for children with inflammatory bowel disease.
Mike grew up in Ohio, where he also trained in gastrointestinal physiology as a graduate student. He moved to CHLA in 2014 and continues his postdoc studies in Dr. Frey's lab. Mike hopes to better understand how the intestines respond to injury. Ultimately, he'd like to find new treatments for disorders and conditions of the intestinal tract, like Crohn's disease and ulcerative colitis. Please read the latest post about his most recent research effort.
Mike's drive to explore came early in life. As a kid, he'd use his microscope to explore what he calls "an invisible world." He found that there was always more to discover, a mindset that continues to motivate him today. Empowered by his current role, he feels able to translate this drive into making a real impact on the future of pediatric health.
Mike has a dark side, too – an addiction. Luckily, running is his drug of choice. He has done multiple marathons and continues to train. When the world is not on lockdown, he enjoys traveling with his wife and going to the beach with their dog, Ellie.
---
Kelby Knox
Kelby is a PhD student in biomedical engineering mentored by Dr. Robinder Khemani.
Kelby grew up in Sacramento, Calif. With two MD parents and a sister who was also headed down the medical path, he struggled with scholastic motivation in high school. But he liked to take things apart and had a curiosity for what made them work. He spent time tinkering and learning in places other than the classroom – like the toolshed. After taking a class in physics, Kelby recognized that physical sciences inspired him. At the University of Vermont, he studied mechanical engineering and found that his interest in the subject led to higher grades. He then pursued a master's degree in biomedical engineering, which, as he puts it, allowed him to follow the family trend.
Kelby hopes his career always affords him the opportunity to problem solve. Research, he feels, provides this in a unique way. Though mechanical engineering continues to interest him, biomedical engineering contains challenging puzzles in a growing field.
When he is not studying and researching, Kelby is a big fan of playing games. He enjoys the combination of having a defined set of rules paired with the element of luck. Kelby also likes to be outdoors and take part in activities such as backpacking and rock climbing.
---
Robert Guglielmo, MD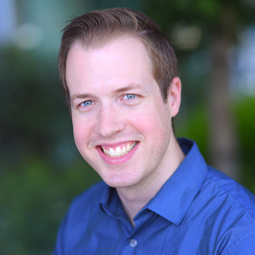 Clinical Fellow, Pediatric Critical Care Medicine
Robert Guglielmo, MD, is originally from Michigan, where he received his undergraduate and medical degrees. After internship, residency and chief residency at UCLA, he is now in his final year of critical care medicine fellowship at Children's Hospital Los Angeles.
Research first interested Robert during his undergraduate training, while learning about the physical properties of the human body and how biomedical devices can advance human health. His education and career has been filled with research projects. "My interest was revitalized as a fellow working with Dr. Khemani, who is an inspiration to all who work with him."
Currently, Robert is investigating ways to examine the effects of cannulae and inhaled medications on children with bronchiolitis, with the hopes of optimizing care for these children.
"My main goal is to help critically ill children," he says, "but I also want to advance the field through research and training."
Outside of the hospital, Robert loves to run and exercise on the Peloton. He spends much of his time with his family—daughter Maddie, wife Mona and dog Colby—and he has a son due to be born this July. He enjoys finding humor in life and medicine. He also claims to like "dad jokes," but didn't even notice he used the word inspiration to describe Dr. Khemani, whose work revolves around respiratory physiology.
---
Benjamin Yoon, MD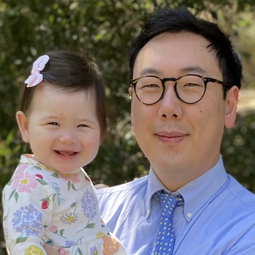 Clinical Fellow, Pediatric Critical Care Medicine
Benjamin was born in Minnesota and spent time in Maine, Illinois, and Washington, D.C. He trained at Virginia Commonwealth University, where he met his wife, Zara.
Having a father who is a research professor, Benjamin naturally rebelled and wanted to pursue a different career path. But as a physician, he cared for many sick children who couldn't get comfortable with a ventilator. He came to Children's Hospital Los Angeles three years ago and has been part of the CHLA Respiratory Research Group under the mentorship of Robinder Khemani, MD, working on a study called REDVent (Real-time Effort Driven Ventilator Management). This phase 2 clinical trial tests a computer-based approach that seeks to reduce time on ventilation by preserving respiratory muscle strength in critically ill children.
"I want to dig into ventilator management questions to help these kids," he says, "and I want to be around people who are excited to do the same."
As for avoiding his father's career path? "Of course, now I love research," says Benjamin. "I am becoming more like my father with every passing year."
Outside of work, he spends time with his wife, daughter (Molly), and their goldendoodle (Margo). They like to hike, rock climb, and watch The Bachelor.