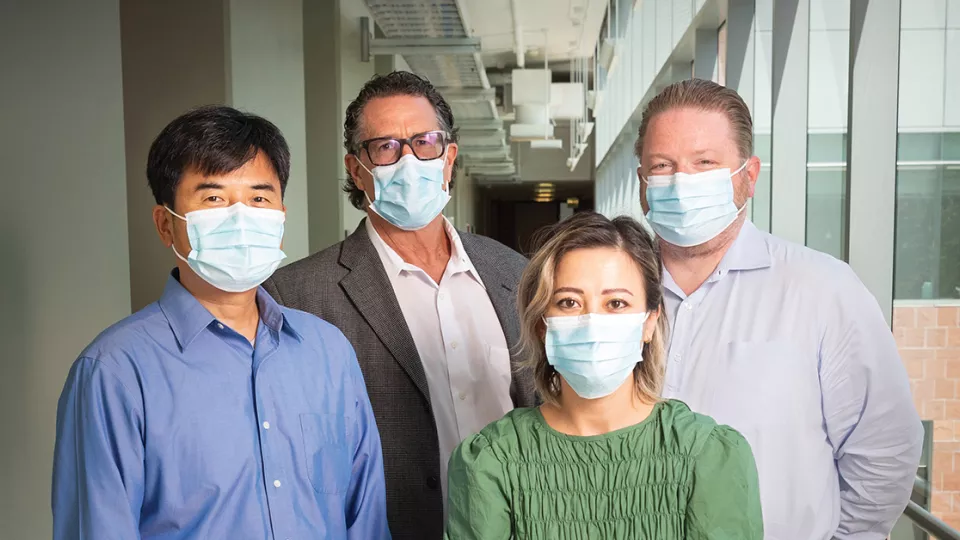 Research and Breakthroughs
TEAMWORK: HOW CHLA STAYED AHEAD OF THE COVID-19 CURVE
Discoveries moved from the lab to the patient in record time.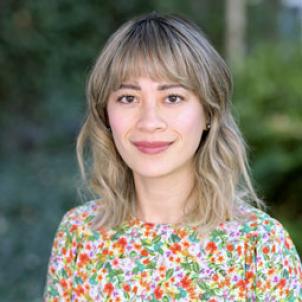 Britain's royal family led international news covered by U.S. news outlets on Jan. 9, 2020. Fortunately, a smaller story caught the attention of Jennifer Dien Bard, PhD. The World Health Organization issued a statement regarding a cluster of pneumonia cases in Wuhan, China. On that day, she began tracking the progression of the still unnamed novel coronavirus.
By February, the respiratory virus—now called SARS-CoV-2 for severe acute respiratory syndrome—had moved beyond China into Italy and Iran.
"We knew then we were facing a global crisis," recalls Dr. Dien Bard, Director of the Clinical Microbiology and Virology Laboratory at Children's Hospital Los Angeles. "It was only a matter of time before the virus would strike the United States."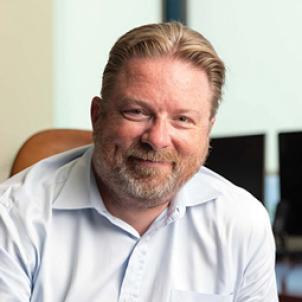 Dr. Dien Bard reached out to Alexander R. Judkins, MD, Pathologist-in-Chief and Chair of the Department of Pathology and Laboratory Medicine at CHLA, and Maurice O'Gorman, PhD, MSc, Chief of Laboratory Medicine. Her urgent recommendation: The hospital should begin to increase in-house quantities of test supplies and materials.
Based on continuing international reports, she anticipated worldwide demand would outstrip supply. The team made calls. Reinforced supply chains. And took delivery of all types of testing materials—from swabs to reagents.
That early work and planning prompted by Dr. Dien Bard ensured CHLA was ready when COVID-19 hit the U.S. The hospital quickly launched an ambitious testing program and fast-tracked research to study the source of the virus's rapid growth.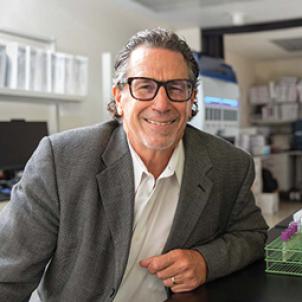 "As an academic medical center, we were prepared with expertise and infrastructure to begin tackling this rapidly evolving situation from many directions at once," says Dr. Judkins. "Our team was among the first in the nation to develop and validate a highly specific test, make it available and fast-track results."
Over the next year, the hospital marshaled its resources to help ensure the continued delivery of care for children—and lead the scientific community's understanding of COVID-19 in pediatrics through the use of genomic epidemiology, a 21st century scientific technique. "We created bioinformatics tools to analyze the genetics of the virus and subsequent mutations," says Dr. Judkins. "Then we sequenced and tracked the spread of the virus both locally and nationally and established an ongoing effort among U.S. children's hospitals to catalog all variants of the virus that impact children."
MOVING FROM 'NO TEST' TO 'RESULTS IN FOUR HOURS'
In those early weeks of the pandemic, with no commercial test available, the team began developing a highly sensitive COVID-19 test to determine if an individual had been infected with the virus. Unlike a test kit that is ready to use, a lab-developed test requires design, development, validation, training and implementation. But those steps take time, one resource the team didn't have.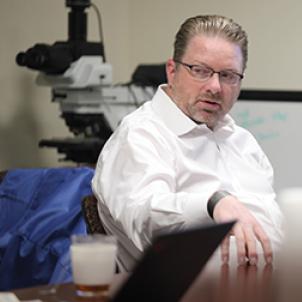 "At CHLA, we invest in people and equipment, and that put us in the fortunate position of being able to move quickly," says Dr. Dien Bard. "We developed a test prior to the shutdown in California. We moved ahead with offering the test, shortening the time for results to just hours and began developing a saliva test. All while many institutions were still waiting for test materials."
On March 1, 2020, the Centers for Disease Control and Prevention reported 23 confirmed COVID-19 cases in five major U.S. metropolitan areas. Experts now say the actual numbers then likely reached into the tens of thousands.
"No one knew what was going to happen in the coming months," says Dr. Judkins, "but we knew that communication and teamwork would be critical."
To meet that need, Dr. Judkins launched a COVID-19 working group, which convened seven days a week to strategize each move against the virus as the death toll rose. Daily participants included Dr. Judkins, Dr. O'Gorman and Dr. Dien Bard, along with key department administrators and laboratory leaders. Additional specialists rotated in as needed, including those with expertise in microbiology, pathology, immunology, genetics and bioinformatics. The assembled group members pooled their knowledge and ideas as they reviewed worldwide research and strategized questions they would strive to answer.
When the hospital's COVID-19 test became ready the first week of March—before schools and public places even began to shut down—Dr. O'Gorman took a leadership role in planning the actual testing at CHLA. That included interfacing the testing with the hospital's electronic medical record to provide an online patient portal where members of the public could easily check their results.
On March 13, CHLA received emergency use authorization for its COVID-19 test from the Food and Drug Administration. Three days later, the hospital's drive-through and walk-through COVID-19 testing site opened, one of the first in Southern California.
Initially, the virology laboratory produced results in 24 to 48 hours. "Within two weeks, we achieved a six-hour turnaround," says Dr. O'Gorman. Shortly after, it added a four-hour rapid test to help clinicians in diagnosing and treating emergency cases.
It fell to Jennifer Lee, Administrative Director of the Department of Pathology and Laboratory Medicine, to staff a laboratory that suddenly went from one nine-hour shift a day to a 24/7 operation.
Lab technicians were redeployed to process the COVID-19 test, with more help coming from other areas of the hospital. "There was a lot of confusion at the onset of the pandemic, and the work was overwhelming at times," says Ms. Lee. "But we knew we had a critically important job to do, and everyone stepped up to do it."
From March 2020 to March 2021, the department performed more than 80,000 COVID-19 tests for employees, patients, patient families, neighboring hospitals and community physicians.
UNRAVELING THE VIRAL GENOME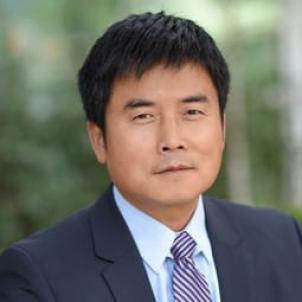 In April 2020, Xiaowu Gai, PhD, Director of Bioinformatics in the Center for Personalized Medicine, led development of whole-genome sequencing and bioinformatics tools to analyze the evolution, spread and risk factors of COVID-19.
"We couldn't wait for information to come to us," he says. "As geneticists, we wanted to decode the genetics of the virus and discover what enabled it to become so infectious."
His team created a database of SARS-CoV-2 genomic sequences from every positive test result processed at Children's Hospital Los Angeles and, to fortify that resource, solicited test data from pediatric institutions around the globe.
The investigators knew they weren't tracking a single virus. "Every time a virus infects a person, it replicates and sometimes makes mistakes in copying its genes," says Dr. Gai. "These mutations were leading to different forms of the virus."
By October 2020, the team's analysis of COVID-19 transmission patterns, based on analysis of mutations, confirmed that early travel restrictions and other measures in the U.S. had helped limit spread between states and regions nationwide. A month later, they published the largest pediatric COVID-19 study to date, which identified a specific group of mutations more commonly seen in pediatric patients and—for the first time—linked them with the most severe COVID-19 symptoms.
The team also formed a sequencing consortium with eight other U.S. pediatric medical centers, which sent (and continue to send) their positive COVID-19 results to be sequenced and tracked at CHLA for ongoing research.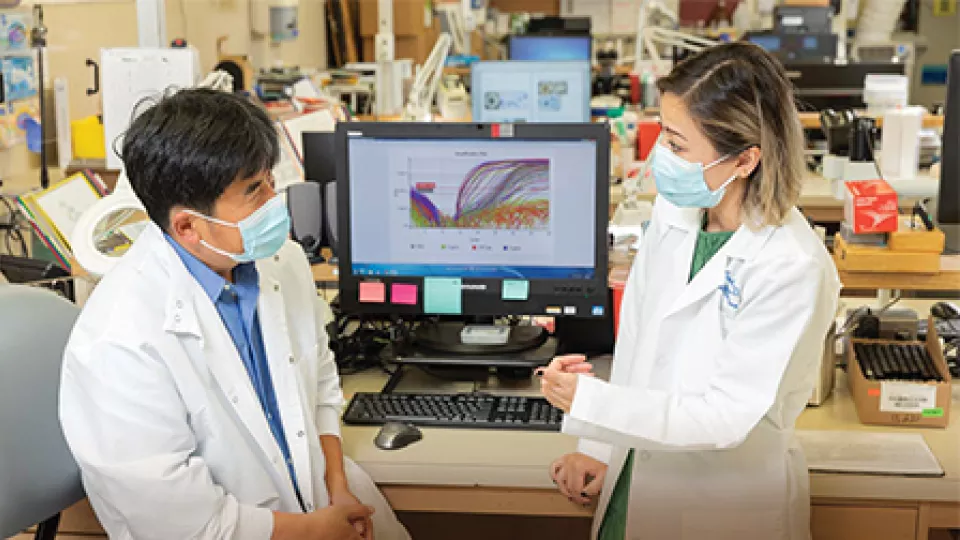 PROGRESS IN THE LAB, THE COMMUNITY AND THE WORLD
In an extraordinary year for science, researchers around the world pooled their findings and went from discovering the virus to creating a vaccine—an unprecedented event in scientific history. Children's Hospital Los Angeles began offering the vaccine to its team members in late December 2020 and soon after, to patients, patient families and members of the community.
As the pandemic entered year two, the areas of study were multiplying. Clinicians at the Cancer and Blood Disease Institute noted that some patients with a compromised immune response continued to record positive COVID-19 results month after month. An interdisciplinary investigation led by Dr. Dien Bard showed that SARS-CoV-2 can produce a lingering infection, which helps viral mutations multiply—an important insight for treating children and adults with weakened immune systems.
By spring 2021, the investigators had authored or co-authored 17 publications, with more on the way, and given 14 invited presentations—including an international webinar sponsored by the American Academy for the Advancement of Science that featured Dr. O'Gorman.
From the start, the team focused on the science and used its skills to understand and track the virus, to help protect patients and families, and make Children's Hospital Los Angeles a leader in pediatric COVID-19 research. The group's work continues.
Moving forward, Dr. Dien Bard is eager to study a new method of school-based testing for COVID-19 and other respiratory viruses. Dr. Gai and his team are busy sequencing the virus present in children with multisystem inflammatory syndrome or MIS-C to find genetic clues into why some patients develop this more devastating form of infection.
"We've learned a great deal about this pandemic," says Dr. Judkins. "And now, we need to be ready for the next one."
---
A GOOD NEIGHBOR
From the first hint of a COVID-19 pandemic in early 2020, scientists in the Children's Hospital Los Angeles Department of Pathology and Laboratory Medicine knew testing would be crucial to controlling the virus.
In March 2020, the hospital developed health screenings for everyone entering its campus. That same month, it launched drive-through and walk-through COVID-19 testing at its Sunset Boulevard site for hospital team members and all children admitted to the hospital or undergoing procedures.
Access didn't end there. CHLA expanded its testing services to area hospitals, many of which had trouble securing test supplies. Among the first "customers" were Keck Medicine of USC, Huntington Hospital and USC Verdugo Hills Hospital, along with Shriners for Children Medical Center-Pasadena, Harbor-UCLA Medical Center, Adventist Health Glendale and others.
The hospital also made testing available to patients of more than 200 community pediatricians within the Children's Hospital Los Angeles Care Network.
As the first COVID-19 vaccines gained approval, CHLA began immunizing its staff and opened a free vaccine clinic for community members, teachers and parents. As of June 2021, hospital team members had vaccinated more than 31,000 people.
"In addition to keeping our hospital safe and open," says Maurice O'Gorman, PhD, MSc, Chief of Laboratory Medicine, "we wanted to provide our neighbors with access to both testing and vaccines."