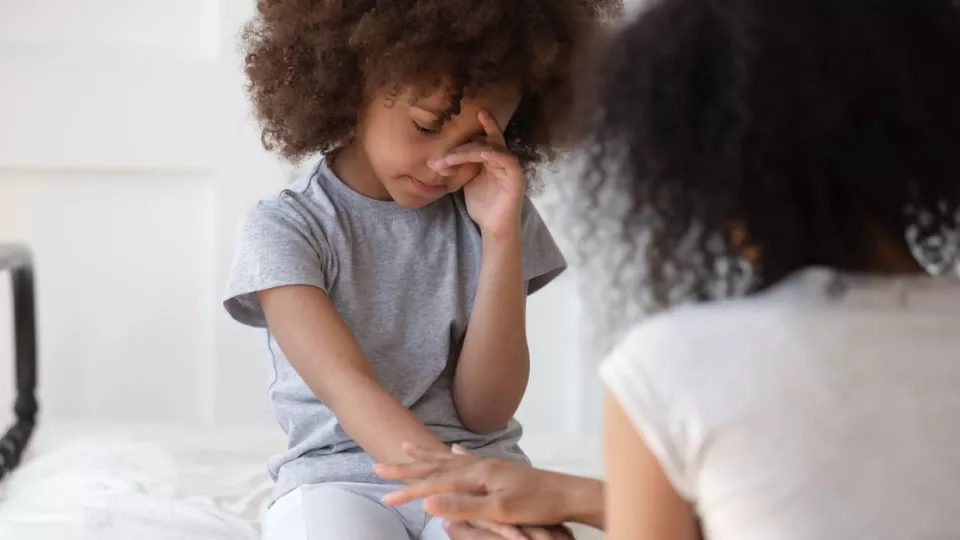 Research and Breakthroughs
How Racial Discrimination Impacts Child Health
Study finds that mental and behavioral issues may be the first effects to surface in children.
Many studies have shown that racial discrimination is harmful to children's health. But what exactly is that link between racism and health in young people? And how much does socioeconomic status affect those impacts?
Ashaunta Anderson, MD, MPH, MSHS, FAAP, a pediatrician at Children's Hospital Los Angeles, recently published a study that shed new light on the answers to these questions. Her paper, "The Detrimental Influence of Racial Discrimination on Child Health in the United States," was published in August in the Journal of the National Medical Association.
The study found, not surprisingly, that racial discrimination was associated with decreased general health among children. But it also identified a possible pathway to development of those negative health impacts: depression and anxiety.
"When children experience racial discrimination, their mental health may be impacted first," Dr. Anderson explains. "Basically, kids feel bad, which leads to depression and anxiety. And depression and anxiety can then lead to physical health problems down the road."
Racism has previously been shown to also have direct effects on physical health, such as lower cardiovascular health and increased insulin resistance. But those effects often take decades to appear. Depression and anxiety can show up much sooner—and are more likely to be the first impacts to surface in children.
The study was based on the 2011-2012 National Survey of Children's Health from the U.S. Health Resources and Services Administration. The random telephone survey included responses from more than 95,000 parents who had a child under 18 in their household. Among many questions, parents were asked about their child's health and if their child had ever experienced racial discrimination.
Dr. Anderson's team used sophisticated statistical methods to analyze those responses among racial groups, as well as among different income levels within each group. The researchers found that racial discrimination was harmful to children's health across the board—regardless of a family's income.
"A lot of times, people try to explain away the health impacts we see in children from minority groups. They say, 'That's not really race. That's poverty,'" she says. "And it's true that poverty has a big role to play. But what we found is that it's not just low socioeconomic status. There's something about racial discrimination itself that is toxic to kids."
Dr. Anderson notes that the data was a snapshot in time, with no follow-up to see how kids were doing years later. But the study still has important implications for how both pediatricians and parents can help counter the health impacts of racial bias.
"From early on, we could screen children for whether they have experienced racial discrimination and then keep an eye on their mental and behavioral health and be ready to support any issues in those areas," she says.
In addition, Dr. Anderson has developed an early childhood intervention that uses children's books as tools for parents to help boost their child's cultural pride. She is currently applying for grant funding to test whether the intervention improves kids' mental and behavioral health outcomes.
"Part of the problem of racial discrimination is being 'othered'," she notes. "Cultural pride does the opposite of what racial discrimination does. It connects children to something larger that they can feel good about. But this is not just for children from minority groups. We want to help all kids embrace cultures that are different from their own."
Additional study contributors included Lewis Luartz, MA, MEd, and Keith Widaman, PhD, of UC Riverside; Nia Heard-Garris, MD, MSc, of Ann & Robert H. Lurie Children's Hospital of Chicago; and Paul J. Chung, MD, MS, of the Kaiser Permanente School of Medicine.
Related Content