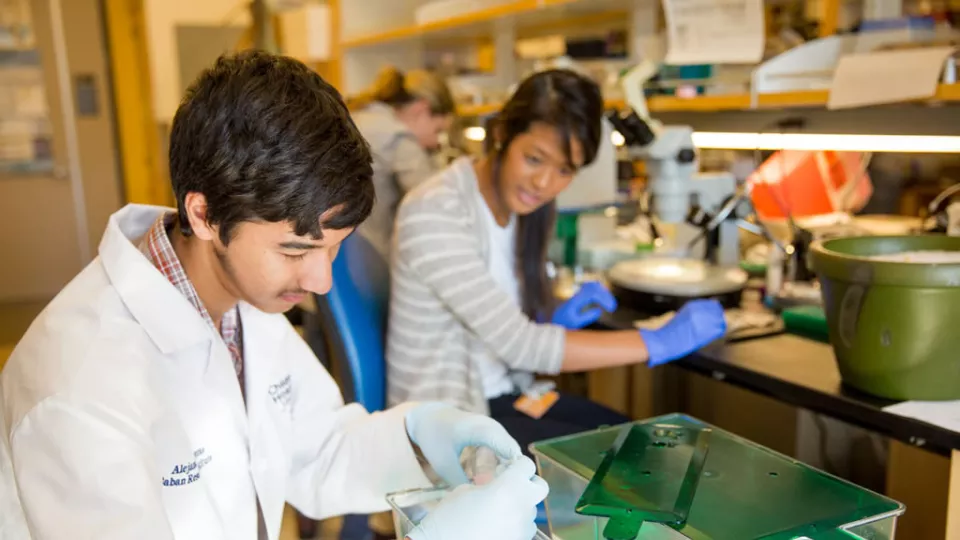 Research and Breakthroughs
Diversity in Research: High School Students at the Cusp of Biomedical Research
Seeing the arm ripped off of one's favorite SpongeBob SquarePants plush pillow can be heartbreaking for a child. But rather than grieve its loss, a young Michael Quintero got out his mother's sewing kit and slowly stitched SpongeBob back together. While too young to truly contemplate a future career in medicine, he did feel as though he'd done something vital in saving his plush friend. Looking back, an acceptance to Columbia University in hand, the experience sticks out in Michael's mind when he considers his current premedical aspirations.
When Michael was just 10 years old, a motorcycle accident left his father with a traumatic brain injury and his mother with the primary burden of supporting their family. Seeing the struggles his family, especially his mother, faced had a deep effect on Michael's desires to succeed at his dream of pursuing medicine.
"These circumstances kept that drive in me alive," says Michael, who early on dreamt of attending an Ivy League school on the way to becoming a neurosurgeon. Michael began looking up information online and discovered the importance of research experience in pursuing opportunities in the medical field. Deciding there was no time like the present, Michael looked for research programs he could partake in as a high school student and eventually found out about the Samuels Family Latino and African-American High School Internship (LA-HIP) at Children's Hospital Los Angeles.
While 28% of Americans are of African American or Latino background, only 5% of those with PhDs fall in either category. The LA-HIP program, which this summer marked its tenth year, gives minority high school students, underrepresented in the sciences, the chance to take part in the cutting-edge biomedical research conducted at CHLA. Students research a wide range of subjects, ranging from stem cell research to immunology to micro RNAs. Other resources provided by the program include SAT preparation, writing workshops for personal statements, financial aid counseling, and other college readiness preparatory work.
"I felt it [LA-HIP] was more comprehensive… much more than just conducting scientific experiments in the lab," says Michael of his decision to apply to the program, which he attended in 2014. Michael had the opportunity to work on the isolation of synaptoneurosomes in mice models of Alzheimer's disease under Di Tian, MD, PhD, at The Saban Research Institute of CHLA. But what Michael most appreciated was the opportunity for mentorship that LA-HIP provided. From his own research mentor to director of the LA-HIP program, Emil Bogenmann, PhD, EdD, Michael was motivated by the mentorship he received to continue pursuing research opportunities.
Bogenmann began the program with only 8 students. 10 years later, LA-HIP now boasts more than 130 alumni. All alumni have gone on to college, with 65% attending universities and colleges ranked in the top 25 in the nation.
"This is an enormous accomplishment that demonstrates the students' discipline, personal drive and their ability to overcome adversity," said Bogenmann.
Many of these students, like Michael, are the first in their family to pursue higher education. Michael will be attending Columbia University with a full scholarship having applied through the National College Match headed by the Questbridge Program. He looks forward to exploring research opportunities at Columbia, using the skills he developed in LA-HIP to pursue his medical aspirations.