A Guide to Holiday Gift Giving: Therapist, Parent and Kid Approved!

The holidays are just around the corner and the "Top Ten Toys of 2016" lists are flooding the internet already. But as plentiful as these lists may be, it is a daunting task to narrow down a list to meet each child's unique interests, to match their development skills and abilities and fit within each family's individual budgets.
This article provides a few toy suggestions and outlines some things to consider when searching for the perfect gift for that special little one on your gift list this year.
0 to 3 MONTH OLD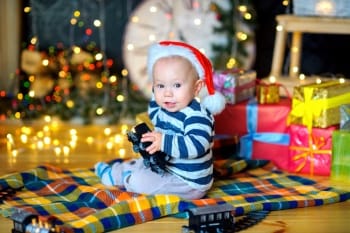 The newborn and infant is still very new to this sensory-rich world in which we live. Because everything is new and exciting, they don't need all the bells and whistles when it comes to toys. The most important thing a parent or caregiver can give at this age and stage is quality time, holding, playing, talking and singing with their baby. But this is a gift-giving guide after all, so here we go:
PLAY MAT—Play mats allow babies to move their arms and legs freely and explore movement. Floor time is a great way to develop the muscles of their neck, trunk, shoulders and hips, which are necessary for more challenging gross motor skills (i.e., rolling, sitting and crawling) that they'll learn in the next stage.
PLAY MAT WITH ACTIVITY GYM—Babies see best when given high-contrast images positioned at a distance of 8 to 12 inches from their face. Fortunately, many play mats come with an activity gym (arch-like structure that toys can hang from) connected to it so the baby can visually focus and maintain their head in line with their body. The activity gym really does give babies a workout, as it also encourages them to kick and reach out to strengthen their little arms and legs.
SWADDLES/BLANKET/MUSLIN—Babies can startle or become easily overwhelmed by things around them. Swaddling can help either calm your baby or facilitate a more restful sleep.
RATTLE—Rattles don't need bright lights or music. Go back to the basics. A simple, graspable rattle that makes a soft noise is a perfect first toy for your baby. Rattles encourage grasp/hand strength, and teach babies that their actions can have an impact on the world around them—cause and effect!
BABY MIRROR—Babies prefer looking at human faces over anything else. During tummy time or floor time, it isn't always easy to get down to their level. Use a baby (unbreakable) mirror to capture your baby's attention. Gazing at their reflection supports social emotional development, as it can help them learn about social cues, language and body awareness.
4 to 6 MONTH OLD
This is such an exciting time! Between 4 and 6 months of age, babies are starting to roll and eventually are able to sit. Tummy time is still important at this stage as 4 to 6 month olds will start to push themselves up onto their hands and even reach out to get at their favorite toy. Don't put away that play mat or rattle; they are still perfect for this stage. During this period of development, infants will also begin to develop more language, and they babble and engage in back-and-forth type play (i.e. peek-a-boo).
TEXTURED TOYS (i.e. rattles, large blocks)—Children explore with their hands and mouth. Bringing their hands together and to their mouth strengthens their shoulders, shapes the muscles of their hand and will support their transition to solid foods. Toys can motivate children to move, to reach, roll and eventually crawl to get at their toy.
BOOKS—Reading is a great way to facilitate visual attention, language development and even fine motor skills with turning pages. There are a variety of book types on the market now that are suited for this age group (i.e. indestructible books that are safe to put in the mouth, tag books, tactile books and board books).
SMALL BALL with holes—Small balls with holes and bumps and textures can help the younger child learn to grasp, bring hands to midline and eventually learn to transfer from hand to hand. As they begin to be more proficient at sitting, you can pass a ball back and forth as your child sits on the floor. Challenging your child's ability to adjust their posture to reach out and grab the ball without tipping over can strengthen their trunk muscles. Passing a ball back and forth introduces the concept of cause-effect, turn taking, and the reciprocity of language. Catching the ball also helps them anticipate, sequence and time their movements too.
CAUSE-EFFECT TOYS—Cause-effect toys come in a variety of shapes, sizes, colors and sounds. Some cause-effect toys require batteries and they light up or make music at the push of a button. If you are giving this as a gift, the recipient's parents will love you that much more if the toy comes with both a volume setting and an off button. Other cause-effect toys don't require batteries at all. These may have a push button that makes the toy spin. Others may have a series of knobs and buttons to flip or turn that make their favorite character pop up. Whatever you choose, these toys are a perfect way to continue to challenge children to learn how they can impact cause and effect. These toys are also a great way to capture their attention and motivate them to move!
MEALTIME SET—4 to 6 month olds are starting to sit and bring toys to their mouths. They munch on their own hands and open their mouths and reach for their parents' food. At this stage, infants may be ready to be introduced to solid food. The best way to introduce solids is by allowing children to grasp the food and bring it to their mouths on their own and/or through messy food play. Gifting a mealtime set, high chair or a travel feeder seat is a thoughtful and practical way to mark this milestone.
7 to 9 MONTHS OLD
Watch out world; the 7 to 9 month old is on the move! They are combat crawling, creeping, crawling, and eventually pulling to stand. They are able to sit independently, play freely and reach for toys set nearby.
PLAY/ACTIVITY TABLE—Play tables have fun cause-effect activities built right in. These are great for pulling to stand and encouraging cruising (walking around the table with support).
SIT-TO-STAND LEARNING/ACTIVITY TOY—This toy, similar to the play table, has the fun cause-effect activities built right in. Unlike the play table, this toy can be set low to the ground to play with as the child sits, or propped up onto wheels to allow the child to kneel, stand and eventually push and walk with support. Therefore, this toy will still be popular into the next stage (9 to 12 months). The sit-to-stand is also listed at toy stores as "Sit-to-stand walkers." Don't confuse this toy with other type of walkers where the child sits in a fabric sling-type seat. Sit-to-stand walkers allow children to kneel, stand and eventually walk when the little bones and muscles of their legs are ready to support their weight.
RING STACKER—7 to 9 month olds have had plenty of practice bringing their hands together by this point and they have become more proficient sitters. The ring stacker challenges their fine-motor skills to become more precise as they aim to place the rings on the pole. It also challenges them to maintain their balance as they play, pull up on the rings and reach for rings around them. The Ring Stacker can target cognition as well, such as concepts of color and size.
STACKING BLOCKS or NESTING CUPS—Blocks and nesting cups are great ways to challenge more precise fine motor skills. Start with big blocks and move to smaller ones as the child begins to master this skill. For nesting blocks, start with the biggest and the smallest and skip the ones in between just to make it a bit easier. As children begins to master this skill, add one more cup and so on. Talk to them about the color, help them build and knock them down. Use the blocks or cups to bang onto the table or together to make music. Use the blocks and/or cups in your pretend play. The ideas, as they say, are only limited by one's own imagination.
BUCKET AND SHOVEL—Toddlers love to put in and take out. They love to explore, sift and dump. The bucket and shovel can be a fun way to build arm strength and fine motor skills. Plus, your child can get messy and explore nature's textures of water and sand. Don't want to get messy just yet? Bucket and beach sifters are fun in the bath too.
10 to 12 MONTHS
By 10 to 12 months, toddlers are like little people. They are starting to say words and hold conversations (although you may need subtitles to translate baby talk). The 10 to 12 month old may also be taking those first steps toward being an independent walker!
PUSH TOYS—Push toys come in a variety of forms. The sit-to-stand activity toys can provide a more stable base. But as children becomes more proficient walkers, they may graduate to other push toys like lawn mowers and shopping carts. Whatever the form that strikes children's fancy, this is a great way to provide them more independence in supportive walking. It is also a great way to engage them in imaginative play. Have children go shopping. Picking up fruit from the floor can help them transition from squat to stand, which challenges their sense of balance, control and strength.
PULL TOYS—As they become more proficient walkers (and into the next stage, 12 to 15 months), dragging their pull toy by the string becomes a fun way to increase the challenge of walking.
SHAPE SORTER/LARGE SHAPE NON-INTERLOCKING PUZZLES—You may introduce the shape sorter at an earlier stage because, as stated before, kids love to put things in, take things out and dump, etc. With the shape sorter, you can start to teach concepts of shapes, colors and matching. The shape sorter also builds upon fine motor and problem-solving skills as the child has to turn the block just the right way to fit it into the container.
CONNECTING BLOCKS—Legos, although now a household name, are not the only connecting block out there. Some are large with one connecting point, others are itty-bitty and have four to six connecting points. Whichever blocks you choose, make sure you select the appropriate age range, as blocks can be choking hazards for small children. Some have loose connections that easily fall apart and others require more strength and precision. Small and large pop beads as well as magnetic blocks count in this category. Connecting toys are a fun way to strengthen the arms, hands, and fingers. They come in a variety of colors, shapes and textures too! Connecting blocks and stacking blocks are also a great way to develop problem-solving skills, block-construction skills and an understanding of concepts such as size and spatial relationships.
CRAYONS—Can't forget crayons! Scribbling, doodling, drawing, writing and before you know it, a masterpiece! Crayons help develop fine-motor skills for writing and visual motor skills for copying, tracing and writing. Crayons are at most family-friendly restaurants, so it's an easy, accessible and "screen-free" way to keep your child busy when you are going out.
Of course, the best gift for the holidays at any age or stage is quality time with the family. We hope you have a safe, healthy and happy holiday, from our Rehab and Audiology family to yours.